Best Online Master's Degrees in:

Business Administration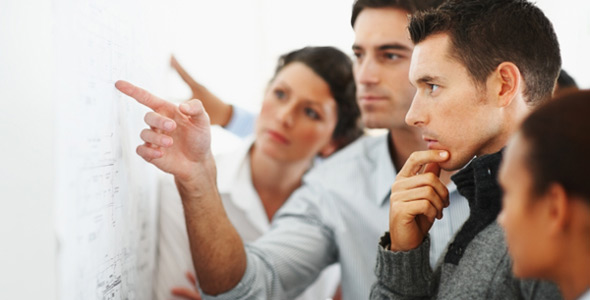 Editor's Picks: Online Schools for Business Administration
Value
Clarkson University in Potsdam, N.Y., won our award for best value of schools that offer an online Master of Business Administration (MBA) program. According to PayScale.com, the university's 30-year return on investment (ROI) is $539,100 and annual ROI is 8.5%. With financial aid, the schools ROI increases to 10.5%.
Flexibility
Ashford University received our award for academic flexibility for its accessible and affordable courses and degree programs. The university received an A+ grade in College Prowler's academic flexibility rankings, which indicate the degree to which a school makes reasonable accommodations to work around a student's schedule. College Prowler also considers ease of class registration, class availability, ease of transferring credits, and required time investment into its ranking of colleges.
Career Support
Herzing University took home our best career support award for its commitment to helping each student find the right job. The university's career development center works with students to develop polished resumes, improve interview and job-seeking skills, as well as provide internship and externship opportunities. College Prowler gave Herzing University an A+ for its career services programs.
Financial Support
Jones International University received our award for financial support among schools that offer online MBA programs. The university's financial aid office works closely with students to ensure they receive the maximum financial benefit they can, and the school has aligned itself with organizations that offer loans, scholarships, and grants. According to the National Center for Education Statistics, 93% of Jones International University students received financial aid.
Student Engagement
The University of Scranton claimed our award for student engagement for its quick instructor response time and ease of which students can communicate with classmates and professors. The U.S. News & World Report placed the university first of the top online graduate business programs for student engagement and accreditation in its list of the Best Colleges rankings. Students typically received a response from an instructor within 24 hours, teachers have four office hours per week, and the MBA program is accredited by the Association to Advance Collegiate Schools of Business (AACSB).
Disability Support
Jones International University also won our disability support award. The university's office of disability services offers students with disabilities equal access to courses, programs, and services offered by the university. Although the university doesn't provide assistive technology and computer equipment for use in a student's home, disability services coordinators offer students information on where they can find the necessary equipment.
Library and Research Support
Penn State University's online World Campus claimed our award for top library and research support. The university allows its online MBA students to access its University Libraries system, which is the seventh largest research library in North America, with more than 100,000 e-books, according to the school's website.
Learning Support
Central Michigan University won our award for learning support for its easy-to-find tutorials for students on its online Blackboard system. The school also ranked as No. 3 in student services and technology and No. 11 in student engagement and accreditation of the top online graduate business schools by the U.S. News & World Report.
Faculty Credentials
Arkansas State University – Jonesboro received our award for faculty credentials because its professors have considerable academic credentials and experience with online teaching. The university ranked first in the U.S. News & World Report's faculty credentials and training ranking of the top online graduate business programs. All of Arkansas State University – Jonesboro's faculty have at least two years of online teaching experience, and teachers are required to undergo online instruction training, which the school finances.
Faculty Accessibility and Involvement
Western Governor's University took home our faculty accessibility and involvement. College Prowler ranked Western Governor's University as No. 9 in its list of colleges with the most accessible professors, which is an indication of how open professors are to taking questions outside of regular class hours.
New Student Orientation
Penn State University takes home our award for new student orientation for the ease of which students can contact technical support and academic advisors through email, phone, and instant messaging. University representatives help students by walking them through the course application process, finding financial and scholarships, and helping them learn how to use the university's online library and career counseling services.
Explore a Master's Degree in Business Administration
A master's degree in business administration, otherwise known as an MBA, serves business professionals who seek upper-level management positions with their current employer, as well as those who want to start a career or find a new job in a business-related field. An online MBA will grant students the flexibility to complete course work from home at a convenient pace. However, students who plan to enroll in online MBA programs should note that they will not have as many opportunities to network in person with professors and fellow students as their on-campus counterparts. Traditional students often leverage these networking opportunities to find jobs, and those who enroll in business school to switch their career trajectory consider this network a huge plus.
Online MBA programs do, however, allow students to work at their own pace, provided they complete required course work in a set timeframe, which is ideal for working professionals. Most online MBA programs require two to four years to complete. The time it takes to complete a master's degree in business administration depends on a number of factors, including whether students attend full- or part-time and whether they have to complete any prerequisites before beginning their core courses.
Class Curriculum
Online MBA students will learn the theories and principles that constitute the core of a business curriculum. They will take classes in management, finance, and marketing, as well as organizational behavior and economics. Aside from classes in business fundamentals, they may take classes in globalization, ethics, or managing diversity. Students will apply academic theories to real-world scenarios. The following are some of the courses students may take:
Organizational Behavior. This interdisciplinary field encompasses sociology, psychology, communication, and management to study the actions and attitudes of individuals, groups, and structures within an organization. Students will learn about the impact of these attitudes on the organization's functioning and performance.
Project Management. This interdisciplinary course encourages students to develop project management skills and techniques that they will need to manage projects in a modern business environment.
Marketing in a Global Environment. This course will teach students the fundamentals of strategic planning in a global environment. Students will learn about creation, promotion, pricing, and the distribution of goods and services for profit and not-for-profit firms.
Strong interpersonal communication skills are essential in business-related fields, so students will collaborate with peers in an online environment while working on projects and case studies. Students will also develop networking skills as they commence their job search.
Building a Career
Depending on their career background before and during the program, business school graduates may seek careers as marketing executives, financial analysts, and advertising executives. They may also pursue other positions related to the world of business and finance. Most, if not all, business school graduates aspire to return to the world of business and obtain a more fulfilling and high-paying job. This is why networking opportunities with professors and executives are important to students; making these contacts can pay off down the road.
Projected salaries vary, as business school students can pursue a number of business and finance-related fields. Overall, business school graduates can find well-paying jobs in marketing, advertising, management, and more. According to the U.S. Bureau of Labor Statistics (BLS), management analysts earned a median annual wage of $78,160. In another high-paying field, financial analysts raked in a median annual wage of $74,350. Keep in mind, however, that salaries for professionals with MBAs can vary greatly based on the industry you work in, the city and state you live in, your level of experience and skill, and other considerations.
Other Online Business Programs