Best Online Master's Degrees in:

Applied Statistics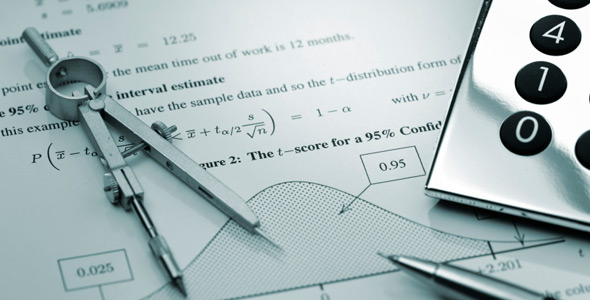 Editor's Picks: Online Schools for Applied Statistics
Value
Penn State University(PSU) claimed our award for best value of schools that offer online master's degree programs in applied statistics. According to PayScale.com, PSU has an annual return on investment (ROI), or what the student pays to attend verses what they earn back in a lifetime of earnings, of 8.8%. With financial aid, PSU's ROI jumps to 10%.
Featured Online Programs
Flexibility
Penn State University also won our award for academic flexibility. The university was ranked No. 19 in College Prowler's list of colleges with the most flexible curricula, which indicates the degree to with students can study what they want to and still meet the academic requirements needed to graduate. PSU's online applied statistics program is identical to the one students would enroll in on campus and it is taught by the same professors.
Career Support
Colorado State University's online CareerRAM service provides students, employers, and alumni the opportunity to connect with each other. CareerRAM publishes job and internship postings, on-campus interviewing services, career event information and more. The website also has tips on successful interviewing, salary negotiation, resume formatting, and network building. Because of its CareerRAM service, Colorado State University won our best career support award.
Financial Support
The Rochester Institute of Technology claimed our award for financial support. According to the National Center for Education Statistics (NCES), 94% of the school's students receive some type of financial aid, including federal and Pell grants, state and local government grants and scholarships, institutional grants and scholarships, and student loans. The institute believes the cost of an education should not prevent anyone from pursuing a degree, and as such it also offers payment plans to help make the academic experience more affordable.
Technology Support
Colorado State University's RamCT Blackboard service allows students to access user-friendly access to course materials, lecture notes, video presentations, assignments, exams, discussion boards, and an email system so they can contact their professors and peers. For technical support, students can call or email the school's library help desk.
Student Engagement
The Rochester Institute of Technology claimed the best school for student engagement designation because of its small class sizes and academic quality. The student-to-faculty ratio at the institute is 13 to one, according to the NCES, and College Prowler gave the school a B+ for academics, which shows that professors take an interest in their student's performance and they try to make the courses engaging.
Library and Research Support
Penn State University's online University Libraries system, the seventh largest in the United States with more than 100,000 e-books, won our award for best library and research support. This service allows students to search for e-journals, books, articles, and in the library's databases and course reserves. Students can also look through the university's digitized collections which include books, journals, manuscripts, maps, thematic collections, image collections, exhibits, historical newspapers, and more.
Learning Support
The University of South Carolina earned our award for best learning support. Online students have access to course content through the university's Blackboard system, where they can participate in course discussions, email professors and fellow students, and download class syllabi and PowerPoint presentations. Students can also view videos of class sessions from the school's 11 different colleges, including the College of Education, College of Engineering and Computing, and the Moore School of Business.
Faculty Credentials
Penn State University received our award for faculty credentials. The U.S. News & World Report ranked Penn State's graduate math program No. 27 in its list of the best graduate math programs in the United States. Since the university's online courses are taught by the same professors that conduct the on-campus classes, students know the same quality and attention to detail will be given to their online experience.
Faculty Accessibility and Involvement
The Rochester Institute of Technology also earned our award for best faculty accessibility and involvement. The school was given a B+ in College Prowler's rankings of colleges for academics, which indicates that professors are accessible, knowledgeable, and care about how their students are doing in their classes. College Prowler also factors in class size, how well professors communicate, and how engaging the classes are.
Alumni Engagement
Alumni of the University of South Carolina have access to education, career, and university services, as well as discounts on discounts at the certain hotels and restaurants. Former students can take advantage of a discount at the university's career center, check out books from the library, and get a discount at the school's gym.
New Online Student Orientation
Penn State University also claimed our top award for new student orientation. Students of PSU's online World Campus have access to the school's technical support and academic advising staff by email, phone, and instant messaging through extended work hours. The support staff helps students through the course application process, finding financial aid, and preparing for online learning. They also help students use the university's online system to access course syllabi and assignments, interact with professors and fellow students, pay tuition, and purchase textbooks and other software at the online bookstore. Online students can also take advantage of career counseling, exam proctoring, and tutoring in writing and math.
Explore a Master's Degree in Applied Statistics
Professionals from a variety of industries pursue a Master of Science (M.S.) or a Master of Arts (M.A.) in Applied Statistics for the opportunity to improve their career outlook and pay. The primary difference between the two is that, usually, a M.S. will require the completion of a thesis while a M.A. will be a non-thesis degree track. Both degree paths give students the opportunity to polish their statistical collection, analysis, application, and presentation skills.
The average M.A. program can be completed by full-time students in one to two years, though the M.S. programs may take longer because of the thesis requirement. Part-time students and those who transfer credits can expect this to diverge from the standard completion time. Notably, most programs require students to complete their studies in six to seven years at most, giving students ample time to fulfill their master's degree requirements.
Class Curriculum
Class curriculum covers various statistical techniques and theories, and may involve learning to simulate and apply statistics to situations in the real world. Core classes are usually devoted to specific areas of statistics. For instance, common core courses are linear regression models and probability. Electives allow students to hone in on the industry in which they will be applying their statistics degree. Common courses students take are:
Mathematical Statistics. In such a course, students will review and learn new mathematical methods as they are applied to statistics. This can incorporate the matrix theory, variance analyses, differential calculus, likelihood ratio tests, confidence intervals, and much more.
Statistical Methods. In this class, students will learn the variety of methods used by statistics professionals. They will be taught about sampling, statistical procedures, and how to analyze statistics. The goal of the course is for students to learn the methods, their procedures, and when to use them.
Time Series Analysis. A time series analysis class introduces students to the various components of, as well as the programs used to determine, such an analysis. They will learn to estimate and forecast empirical data and how to apply various types of analysis and estimation analyses to the business and science worlds.
Reading assignments and class discussions are a given with this master's program. The application of newly-learned statistical models and theories in the forms of projects and case studies are also common assignments. Students who choose the M.A. option will likely have to complete a capstone or comprehensive exam. Capstone projects are research-intensive and some schools combine the capstone with an internship, allowing students to apply what they've learned hands-on; capstones also require students to complete a short paper. Those students who choose the M.S. track, alternatively, will be required to complete a thesis; this is a book-sized research paper in which students examine a broad topic relating to their area of study.
Building a Career
Upon completion of a master's degree program in applied statistics, students may explore career options in a wide range of industries. Economics is one such field M.A. and M.S. earners are ready to pursue careers in. Economists study the supply and demand of products and services in such industries as healthcare, education, and energy. From their studies and research, economists try to project future market trends. According to the U.S. Bureau of Labor Statistics (BLS), the median yearly pay for economists was $89,450, and employment of economists was expected to increase by 6% through 2020.
Another common vocation sought by degree holders is that of a statistician. This career involves designing and identifying determining factors for surveys, experiments, and polls, interpreting that data, and applying it to answer questions and solve problems. The BLS reported that statisticians earned $72,830 a year. Demand for statisticians is expected to increase by 14% in the upcoming eight years.
A third occupation students seek upon graduation is in market research as analysts. Market research analysts study and analyze markets to determine the demographics and optimum price for a given product or service. The BLS reported that the median yearly salary of market research analysts was $60,570, and PayScale.com states that they can make as much as $67,818 annually. This career choice is projected to grow the most of the three occupations, with a 41% increase expected through 2020.
All salary reports and job descriptions are only estimates and cannot be guaranteed. Both are highly dependent on a series of factors and circumstances, such as the city and state you live in, your level of experience and education, and other considerations that mean they could vary in individual cases.
Other Online Science and Math Programs