Best Online Degrees in:

Business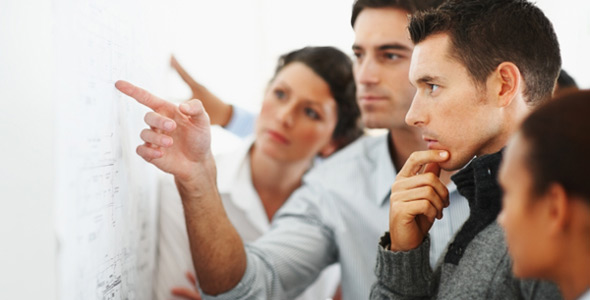 Editor's Picks: Online Schools for Business
Value
Penn State World Campus takes this award based on its highly regarded program and expected return on investment. Online courses are the same as what's offered on Pennsylvania State University's campus, so distance learners can expect the same quality and reputation in education as their campus counterparts. The school ranks among the nation's best value schools based on academic quality and net cost, landing on both U.S. News & World Report's and Kiplinger's recent lists of the best value schools. Additionally, the 30-year net ROI for Penn State is 8.8%, according to PayScale.com, ranking the school among the best in the country for value. As for Penn State's business school, students can expect high-quality there, too, as the program is accredited by the Association to Advance Collegiate Schools of Business, the benchmark for business schools across the globe.
Flexibility
This award goes to Kansas State University, thanks to its variety of course options and services. Online students can take courses anytime, anywhere, and choose from courses that have set lectures and discussion times to ones that are guided study and are more independent. Students also have a wide variety of online courses to choose from, with K-State ranking among schools with the best online options, based on a College Prowler student survey.
Career Support
Penn State World Campus wins this award for its extensive career services for online students. Available resources include live career webinars offering advice on job searching, creating resumes, and interviewing skills; career counseling appointments to discuss career and academic planning; online career assessments; and an online simulated interview website to practice interviewing skills.
Financial Support
Bellevue University earns this distinction for its financial aid offerings and tools. According to the National Center for Education Statistics, 88% of full-time beginning undergraduate students received financial aid during the school year. The same percentage received grant or scholarship aid, with the average amount received $2,448. Not sure what the degree will cost you? Students can get an estimate of the cost of a Bellevue degree, including any financial aid they might qualify for, before they commit by using the school's online Net Price Calculator.
Technology Support
Penn State World Campus receives this award for technical support that provides technical assistance and guidance. Students can contact the HelpDesk seven days a week, via chat, email, or phone. They can also find tutorials on using the school's course management system. Additional tech resources include live tutoring and live streaming video. These services rank Penn State among the best distance learning programs in the country, coming in No. 20 on U.S. News & World Report's list of the best online bachelor's degree programs for student services and technology.
Student Engagement
Penn State World Campus uses multiple tools to create an environment that is social and accessible, earning it this distinction. Students can interact with their classmates and instructor via Skype, Eluminate Live, email, and discussion forms, as well as social media like Facebook and Twitter. They can also join campus societies and events, including the school's chapter of the national honor society Alpha Sigma Lambda; the World Campus chapter of the Penn State Blue & White Society, an alumni association; and one of the school's proudest traditions, the Penn State Penhellenic Dance Marathon. These opportunities rank Penn State among the best distance learning programs in the country for student engagement, according to U.S. News & World Report.
Disability Support
Kansas State University receives this award for its efforts to accommodate students both on and off the campus. It Disability Support Services helps arrange accommodations such as extra time on tests, copies of notes, and modified course materials.
Library and Research Support
Bellevue University earns this distinction for its extensivelibrary services and accessibility. Distance learners are able to search digital archives, databases, and electronic services, download mobile apps, and take an online tutorial to learn the library services. If they're having trouble finding what they need, students can get in touch with a librarian via text, live chat, email, or phone. Chat services are available 24/7.
Learning Support
Penn State World Campus wins this award for its range of academic support resources. Students in need of guidance can take advantage of undergraduate advisors and career counselors who have experience working with adult learners. Students who need help with course work can participate in live tutoring (via chat) in writing and math-related fields.
Faculty Credentials
Kansas State University receives this nod for its strong educational programs and commitment to learning resources. The school is nationally ranked by U.S. News & World Report, which takes into consideration the strength of the faculty, and its business school is accredited by the Association to Advance Collegiate Schools of Business, the benchmark for business programs worldwide based on curriculum standards. Additionally, teachers are continually trained in distance learning practices through the school's Center for the Advancement of Teaching and Learning.
Faculty Accessibility
This award goes to Bellevue University for its high level of teacher accessibility and availability. The student-to-faculty ratio is 23 to 1, according to the National Center for Education Statistics, and small class sizes help teachers become involved in their students' coursework. Additionally, students can expect a response from their instructor within 48 hours, as well as about 10 weekly offices hours, according to U.S. News & World Report, which rated the school the best in the country among online bachelor's degree programs for student engagement.
Alumni Engagement
Penn State World Campus earns this reward thanks to its large network and resources available. Graduates join the largest alumni association in the world, with more than 160,000 members. Members can take advantage of LionLink, a professional networking program, an alumni directory, library resources, career services, and financial benefits.
Prior Learning Options
This award goes to Bellevue University, where students can complete their bachelor's degree in as little as 15 months through its transfer credit policies. Credits from prior education, demonstrated learning, training, and military experience may be put towards the general education core curriculum, electives, or the major. Additionally, students transferring who have an associate degree can automatically fulfill the generation education core curriculum.
New Online Student Orientation
Penn State World Campus wins this award for its convenient policies and tutorials available through its new student orientation. Before they start their course, students can see course summaries, sample syllabi, and sample lessons. They can also buy necessary materials online three weeks before their course starts. To help acclimate themselves to the online environment, new students (and those who need refreshers) and access online tutorials.
Explore a Bachelor's Degree in Business
Every industry, from health care to education to finance, relies on business principles to prosper. Analytical individuals who have strong interpersonal and problem-solving skills might consider a business major, which allows students to develop practical skills. Business majors enjoy leadership roles, and they may specialize in fields including accounting, finance, human resources, marketing, management, and real estate. Online business programs typically require 120 credit hours for completion, but this requirement varies based on the individual program, prior credits earned, and whether the student enrolls in a part-time or a full-time program.
Class Curriculum
Business majors will take classes in fundamental areas such as accounting, economics, marketing, and statistics. In addition, they may take elective classes in areas such as international management, as well as specialized courses in areas such as real estate and human resources management. Students will draw from material learned in these classes to solve practical business problems.
Organizational Behavior. Students will learn about how people, individuals, and groups act in organizations. The interdisciplinary field incorporates aspects of psychology and sociology to study topics including human behavior, change, leadership, and teams.
Business Ethics and Law. Students will discuss how ethical concepts apply to the business world, and they will learn about how organizations can use various approaches to manage and maintain ethical standards.
Business Policy and Strategy. Students will learn how to solve real challenges faced by companies. Eventually, they will participate in case studies to tackle these challenges in group settings.
Students will complete individual assignments and examinations. They may also work in groups to complete case studies, although this will vary based on the format and content of the online program..
Building a Career
Since employers in every industry need people who have been trained to organize, plan, and manage, business majors can enter a wide array of industries. Some may become consultants who propose ways to improve an organization's efficiency, while others become financial analysts, who offer guidance to businesses and individuals regarding their investment decisions. These areas and others offer opportunities for individuals to take on greater responsibility as they gain experience. Eventually, they may become managers and supervisors who work on more complex projects or play a determining role in the direction the company takes.
Salary projections for individuals in the various business-related fields can vary, but most occupations are expected to experience faster than average growth rates. The median annual wage of management analysts, or consultants, was $78,160, and the median annual wage of financial analysts was $74,350, according to the U.S. Bureau of Labor Statistics' (BLS) Occupational Outlook Handbook. However, individuals should note that employment and salary projections are subject to a number of variables, including job availability and general economic circumstances, as well as the applicant's level of experience.
Other Online Business Programs