Best Online Degrees in:

Human Resources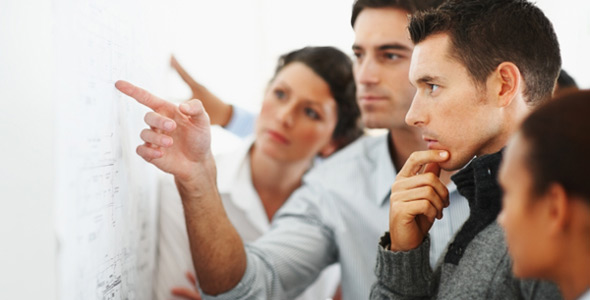 Editor's Picks: Online Schools for Human Resources
Value
Huntington University has gained recognition for its relatively affordable tuition and the academic quality of its undergraduate programs. It is often touted as one of the best schools in the Midwest, though thanks to its distance learning program, students all over the world can attend. Recent accolades include being ranked among the best colleges in the Midwest by U.S. News & World Report, Princeton Review, and Forbes.com.
Flexibility
This award goes to Western Governors University for the freedom it provides to students who really know what they want and how they want to study. Instead of earning credit hours, students develop competency – essentially proof that they understand what they're being taught. To that end, they decide when and where they want to study, and what learning resources they'll use, whether that's online group study, online learning community, or textbooks. Students seem to like the approach, too; the school ranked high in a College Prowler list based on student reviews for best online course options.
Career Support
Capella University receives this award thanks to its advising services and relevant resources. Throughout their education, they meet with counselors who provide one-on-one career advice and job search assistance, receive networking and interview tips, search job postings, and participate in live career webinars that cover such topics as job search strategies and online social networking.
Financial Support
At Capella University, 100% of full-time beginning undergraduate students received financial aid during the school year, according to the National Center for Education Statistics. For all undergraduate students, that number is 97%. Capella receives this award for that commitment to financial aid, for without it, many students are unable to afford a college education.
Student Engagement
This award goes to Western Governors University for fostering a sense of community among students and faculty through its online tools. At WGU, students can connect through group learning sessions, learning communities, and the WGU Student Portal. U.S. News & World Report has also acknowledged WGU in this area, ranking the school among the top online bachelor's programs for student engagement and assessment.
Learning Support
Capella University receives this award for its range of online academic support. Services include academic advisors who help students plan coursework and make sure they're meeting their requirements for degree completion; an online writing center that provides tutoring and courses; and counselors and live webinars that provide career advice.
Faculty Credentials
Huntington University wins this distinction for its nationally recognized faculty and level of training. The school is ranked among the best online bachelor's degree programs in the nation by U.S. News & Report for faculty credentials. The publication notes that one-fifth of the faculty have at least two years of online teaching experience, the school finances online instructor training, and online instruction training is required to teach. Additionally, the school has a high percentage of teachers who have mastered their field, with more than 80% of faculty earning their Ph.D. or other terminal degree.
Faculty Accessibility
Western Governors University receives this award for faculty practices that rank well nationally among online schools. One major strength is faculty communication – the school ranked in U.S. News & World Report's list of the top online schools for student engagement and assessment. Of note, the study noted that students can expect responses from instructors within three hours of contact. The school also ranked high on College Prowler's student-based ratings, which rewarded schools where professors held regular office hours and are open to questions. The school also ranked well on the website's rankings for online professor communication, which favored schools where professors frequently respond to emails and messages.
Prior Learning Options
Capella University earns this award for its time- and cost-saving opportunities. Students are often able to transfer credits from previous academic course work earned from regionally accredited or internationally recognized institutions. They also may be able to put certifications, national tests, such as CLEP, DSST, or SP, and military experience toward their degree. Through the school's Prior Learning Assessment, applicants may also be able to earn credit by documenting their experiential learning.
Explore a Bachelor's Degree in Human Resources
Human resources majors will develop their knowledge of business management and administration, in conjunction with corporate labor law, planning, and psychology. Students who are interested in maintaining and managing workplace operations will enjoy a career in human resources, where their responsibilities will include consulting with employers to identify employment needs; conducting employee orientations; and processing paperwork. Students will need to attain a bachelor's degree in human resources, which may take two to four years. Program length varies based on the individual program, prior credits earned, and whether the student is a full-time or part-time student.
Class Curriculum
Required components of a human resources program may include courses in accounting, management, labor history, organizational behavior, behavioral sciences, and statistics. Many of these classes will allow students to learn about people and the workplace, the impact effective leaders can have on an organization, and how to meet the needs of both employers and employees.
Organizational Behavior. The interdisciplinary field of organizational behavior incorporates aspects of sociology, psychology, communication, and management to study the actions and attitudes of individuals, groups, and structures within an organization. More specifically, students will learn about individual and group dynamics in an organizational setting.
Labor Law. Students will learn about the legal context of employment in the United States. Classes will also cover the practical knowledge that human resources specialists will need to ensure compliance with laws and regulations in the workplace.
Diversity in the Workplace. Students in this course will study the diversity, gender, and race challenges facing employers and employees, and the skills for managing diversity.
As part of the required course work, students will complete reading assignments, write essays, and take online or proctored examinations. They may also work on research projects on both an individual and small group basis.
Building a Career
A human resources manager or assistant plays a significant role in shaping company culture, often acting as a liaison between employers and employees. As students, human resources majors will learn the importance of strong organizational and interpersonal skills. In the workplace, their responsibilities will be vast and varied, and may include work in areas such as employee relations, payroll and benefits, and training. They may also advertise job openings, screen applicants, and update employee records. Graduates may find work in a range of companies, from Fortune 500 corporations to small start-ups, in a number of industries, small and large firms alike. While they may serve as a jack-of-all-trades at smaller firms, they may specialize in a certain area at larger ones, such as hiring or compensation.
The U.S. Bureau of Labor Statistics (BLS) projects that job opportunities will be favorable for individuals in the employment services industry, and specifically in the human services industry. According to the BLS, the median annual wage of human resources specialists was $52,690. However, keep in mind that these estimates are subject to a variety of factors, including employer, location, and level of experience.
Other Online Business Programs