Best Online Degrees in:

Business Communications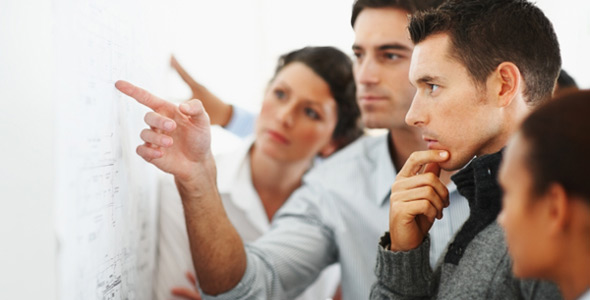 Editor's Picks: Online Schools for Business Communications
Flexibility
Atlantic International University's (AIU) bachelor's degree program in business communication wins the award for flexibility. At AIU, students work closely with advisors and academic staff to develop a curriculum that best suits the student's goals. The custom-made program is a collaborative endeavor, based on the understanding that industry and geographic factors should influence curriculum content. While certain courses are suggested, all students are not required to take the same courses or use the same learning materials.
Career Support
Among schools that offer bachelor's programs in business communication, Jones International University offers the best in career services. Career-building tools and resources include the Total Professional Advantage 2.0, a career development portal and program that includes job and internship postings, career-related videos and articles, and a resume-building tool. Professional career advisors are available to help students create a career plan.
Technology Support
Jones's Online Support Center is the best among schools that offer bachelor's degrees in business communication. Students who have questions or issues with the learning management platform or anything else related to the online environment may live chat with support staff, submit a ticket for the issue, or read the self-help guide that includes frequently asked questions. Students can also call the support center at any time.
Disability Support
Jones International University wins the award for the best disability support services. The Office of Disability Services (ODS) provides information about eligibility, as well as documentation requirements and forms. The office also provides information on disability-related resources and scholarships.
Library and Research Support
Jones International University offers the best in library and research services to its online students. It wins the award in this category primarily for its 24 hours a day, seven days a week "Ask a Librarian" service, which allows students to live chat with librarians for research-related questions. Students can also access more than 40 research databases, 45,000 e-books, and a number of research guides for support.
Learning Support
Jones International University offers tutoring services to students in several areas, including math, writing, and various languages. JIU's online tutoring support is provided by Smarthinking, an online tutoring service that connects qualified educators and students. Students can participate in online writing labs, receive writing critiques, and on-demand help with assignments in areas including human anatomy, accounting, finance, statistics, biology, and organic chemistry.
Faculty Credentials
Jones International University ranks the highest in this category, among schools that offer online bachelor's degrees in business communication. Faculty members are required to receive training in online instruction, and Jones finances this training. On a related note, its graduate programs rank No. 4 in the country in this category, according to U.S. News & World Report.
Faculty Accessibility
Jones International University's faculty is the most accessible among schools that offer degrees in business communication. According to U.S. News & World Report, instructors respond to student emails within 24 hours.
Explore a Bachelor's Degree in Business Communications
Most online business communications degrees are available at the bachelor's level. While some schools may not offer a program specifically in business communication, they may offer a similar program in business with an emphasis in corporate communication. These programs are designed to combine elements of business, management, and communication to help students learn leadership, problem-solving, and crisis communications skills. Most online bachelor's degree programs in business communications take approximately four to five years to complete depending on the school and program.
Class Curriculum
Bachelor's degree programs in business communication are intended to provide students with a working knowledge of both internal communications from a business perspective, and corporate strategy for dealing with the public and media. Some programs may require students to choose a particular area of focus, like advertising, consumer behavior, corporate persuasion, or legal and ethical issues. Some common courses you can expect to see are:
Business Policy. This course teaches students to understand organizational vision and mission, industry and competitive analysis, strategy formulation and implementation in modern business through cases studies and simulation exercises. Students also develop their own strategic plans for specific situations.
Marketing and Corporate Communication. During this course, students address current communication issues in business like globalization, cross-cultural influences, technological advances, ethics, and regulatory requirements. Students learn strategy and composition principles needed in drafting marketing literature, investor communications, media releases, and executive presentations.
Crisis Communication. This course teaches students to maintain the trust and confidence of critical stakeholders in a business crisis scenario. This important skill can also help a company maintain a positive reputation even after something has gone wrong.
Most bachelor's programs in business communication allow students to complete course work at their own pace within an allotted time for a specific project or class, most programs will require students to gain some type of internship or work experience in the field before graduation.
Building a Career
Graduates holding a degree in business communications should be able to find employment in a number of business areas. The most common job for graduates in the field is in public and media relations. Public relations officers and managers are responsible for keeping a favorable public image for an employer or client by writing press releases, planning and directing public affairs campaigns, and may even have direct contact with the public in order to elevate public image. It should be noted that public relations managers typically work in high stress environments, and many times are called upon to work long hours or even work on-call.
According the U.S. Bureau of Labor Statistics (BLS), the median annual income for media and public relations is $57,550. Keep in mind, though, that salaries can vary greatly based on the location of the job, the current economy, and amount of experience the applicant possesses.
Other Online Business Programs