Best Online Degrees in:

Business Management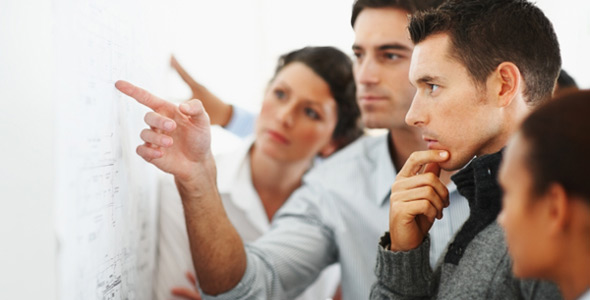 Editor's Picks: Online Schools for Business Management
Value
Washington State University wins this award for its affordable and high-quality education, as evidenced by its return on investment (ROI) and credentials. According to PayScale.com, the 30-year net ROI for WSU is 8.7%. This number increased to 10% when you factor in financial aid. Additionally, the school's business program is accredited by the Association to Advance Collegiate Schools of Business, the benchmark for business degrees worldwide. WSU is also ranked among the best universities nationwide by U.S. News & World Report.
Flexibility
This award goes to Grand Canyon University for its convenient online learning system. Courses can be completed online, or a combination of both online and on campus. There are about 100 bachelor's, as well as master's and doctoral, degree programs to choose from, so you can complete your entire degree online and any other required courses. And they're asynchronous, so students can sign on, respond to message boards, and see professor notes 24/7, whenever they want.
Career Support
This award goes to the University of Tennessee at Martin for its career employment and placement services. Here, students can receive academic advising via chat. They can explore careers and use placement services all online. And they can pursue job boards for employment and internship opportunities.
Financial Support
This award goes to Liberty University, where 97% of full-time beginning undergraduate students received financial aid during the school year, according to the National Center for Education Statistics. Additionally, 95% of these students received grant or scholarship aid, with the average award being $7,962 per student.
Student Engagement
This award goes to Washington State University, which provides multiple ways for its online students to connect with each other. These include a blog specifically for online students, social and academic events held around the state of Washington, and even an online student government. The school also ranks among the top online programs for student engagement by U.S. News & World Report, which recognizes the school as one that give students many ways to participate in their courses.
Disability Support
Northeastern University receives this award for the work of its Disability Resource Center. Here, students can find assistance in getting alternative format materials, such as audio format, Braille, e-text, large print materials, and PDF conversions; exam accommodations related to time, format, or technology used during quizzes, tests, or exams; and reduced course load and tuition adjustment for those who have physical or learning disabilities.
Library and Research Support
At Northeastern University, online students can access 206,500 e-books and 70,225 electronic journals from the school's online library, making the need to go to a physical library practically obsolete. If they need assistance using the library resources, they can refer to online tutorials. And, if they need to reach a librarian, they can do so via phone, email, text, and chat, the latter of which is available 24/7. For offering these services to distance learners, Northeastern receives this award.
Learning Support
Grand Canyon University receives this award for its range of online academic resources. Distance learners can schedule an appointment with a tutor in a variety of topics, including writing, statistics, accounting, economics, and finance. They can watch a series of webinars that discuss how to produce a well-written essay. And they can access a variety of academic tutorials and resources to help them throughout their studies.
Faculty Credentials
Washington State University receives this award for its credentials and online training. The school's business program is accredited by the Association to Advance Collegiate Schools of Business, a leading accreditation agency for business degrees worldwide, which speaks to the strength of the program. Additionally, a majority of the faculty have at least two years of online teaching experience, and are required to undergo online instruction training to teach, according to U.S. News & World Report, which ranks WSU among the best online programs for faculty credentials and training.
Faculty Accessibility
This award goes to Washington State University for having faculty who thoroughly assess students' classwork. According to U.S. News & World Report, students can expect a response from their instructors within 48 hours, and for them to hold office hours about four hours a week. Additionally, the student-to-faculty ratio at WSU is 15-1, according to the National Center for Education Statistics. Having such small class sizes helps facilitate communication between students and their teachers.
Prior Learning Options
This award goes to Grand Canyon University, where new students can earn up to 90 semester hours before they even start. This could be by transferring credits from another college or university, or from tests like CLEOP or DSST. Students may also be able to put military credits, certificates, or other experiential learning experiences toward their undergraduate degree.
Explore a Bachelor's Degree in Business Management
A bachelor's degree program in business management will prepare students to flourish in the business world, as they study the basic principles of business as well as the complexities of management. Students will learn how to employ critical thinking, problem solving, and decision making skills to address issues within an organization. They will focus on the structure of business organizations and the way individuals and groups within an organization conduct themselves. They will also learn how to integrate technology to increase workplace efficiency. A business management degree will teach students what they need in order to work their way to top managerial roles. While most business management programs require 180 credits, requirements vary based on the individual program, prior credits, and whether the student enrolls on a full-time or part-time basis.
Class Curriculum
Business management students will learn the theories and principles of management, accounting, finance, marketing, economics, and statistics. Aside from core business classes, students will take classes in operations management, human resource management, and small business management. Through this curriculum, students will gain technical knowledge, improve critical thinking skills, and enhance their ability to communicate ideas in a collaborative environment. A business management program includes these courses:
Principles of Management. This class offers an examination of the basic functions of management. Students will consider elements of planning, organizing, leading, and staffing, as well as how they can strengthen an organization, from increasing employee satisfaction to improving organizational performance.
Business Policy and Strategy. Students will analyze the process of developing business policies. They will learn about how strategies are formulated, implemented, and evaluated.
Managerial Economics. Students may take several classes within the field of economics, including macroeconomics, microeconomics, and econometrics. This class will emphasize the concepts of demand, elasticity, national and international financial systems, and macroeconomic indicators.
Since strong interpersonal communication skills are essential in business-related fields, students work on group projects and case studies that will encourage them to collaborate with peers. Students will also take examinations that may or may not be proctored, depending on the program.
Building a Career
A degree in business management can lead to careers in consulting, finance, and marketing. While graduates will be prepared for entry-level positions upon completion of the program, they will also have opportunities to climb the corporate ladder, and they may eventually hold positions as marketing managers, financial managers, and human resources managers. Business management students may also choose to pursue an MBA, which may also provide access to leadership positions and welcomed salary increases.
The realm of business, and business management specifically, is a varied one. As such, salaries can also vary greatly. For instance, the median annual wage of property, real estate, and community association managers was $51,480. Meanwhile, the median annual wage of financial managers stood at double that number—$103,910. The specific qualifications and responsibilities of individuals in these fields often vary significantly, despite that their diplomas read similarly. Individuals should also note that BLS figures are subject to variation, and that actual salaries are dependent on factors such as the employee's level of experience and location.
Other Online Business Programs