Best Online Degrees in:

Quality Control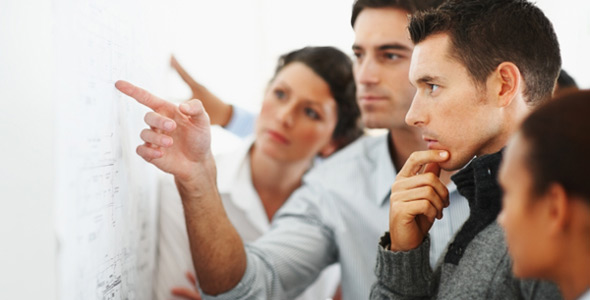 Explore a Bachelor's Degree in Quality Control
Quality control inspectors and managers test products and services to ensure that they meet a certain level of quality. They are responsible for verifying that these products and services meet specific requirements and characteristics, and that they are dependable, reliable, safe, and fiscally sound. While most quality control students complete a postsecondary vocational program, bachelor's degrees in quality control are available for those who want to become managers. They will manage a team of workers who focus on product and service testing. They also write reports, making recommendations on how to improve the quality of goods and services. The quality control major requires students to complete approximately 70 units, and the bachelor's degree requires students to complete 120 units. However, students should note that requirements will vary by program.
Class Curriculum
Quality control students will take classes in mathematics, statistics, and computer modeling. In addition, they will take science classes in areas such as chemistry, physics, and engineering. A standard curriculum may include classes in the following areas:
Physics. Students may take multiple classes in this area, covering topics including motion, energy, electricity, waves, light, and magnetism. Aside from lectures, students may need to participate in laboratory projects that require on-campus attendance.
The Manufacturing Process. Students will learn the fundamentals of manufacturing. They will gauge the efficiency of various processes based on those that require the least amount of time, money, space, and manpower.
Safety and Reliability. This class will cover concepts such as reliability, maintainability, and safety technology in terms of practical industrial applications. Students will learn about failure mechanisms for chemical, electronic, and other systems.
As part of the degree, students may be required to complete an internship, during which they will spend a significant amount of time on a production floor, analyzing behavior that affects quality control. During internships, students will gain hands-on experience as they learn how to use special meters, gauges, computers, and other instruments. They may also be required to complete laboratory work in the areas of natural and biological science. Most quality control specialists will also receive additional training on the job.
Building a Career
Quality control specialists may work in a variety of industries. Food manufacturers, clothing manufacturers, and other service-oriented companies employ quality control inspectors to test finished products; they also conduct checks to ensure that processes are completed properly. Quality control employees may receive specialized training in the automobile, aerospace, and glassmaking industries.
According to the U.S. Bureau of Labor Statistics (BLS), the median hourly wage of quality control inspectors is $15.88. Government economists project that job growth in this profession will be slower than the average growth rate for all professions, at 8%. However, prospective students should note that these figures represent estimates, and that actual earnings may vary based on experience, location, and other factors.
Other Online Business Programs