Best Online Degrees in:

Business Analysis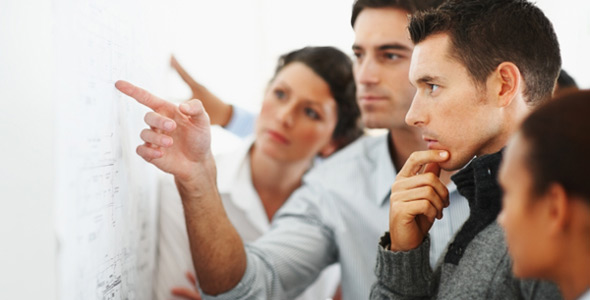 Editor's Picks: Online Schools for Business Analysis
Career Support
Ranked No. 43 on U.S. News & World Report's list of the best online schools for student services, Bellevue University is the winner of the best online business analysis bachelor's degree for career support. At Bellevue, students have access to career placement assistance, career counseling, and job search help. Students can also read job listings through the Job Zone portal.
Technology Support
According to U.S. News & World Report, Bellevue University is ranked No. 43 for its superior student services and technology. At Bellevue, students can seek online support from a service desk during extended hours every day of the week. Bellevue's commitment to providing technology assistance to its students has earned it the award for the best online business analysis bachelor's degree for technology support.
Student Engagement
Bellevue University is ranked No. 1 on U.S. News & World Report's list of the best schools for student engagement and assessment. At Bellevue, instructors want students to act as active learners. They therefore hold weekly office hours and track student sign-ins to the class portals. As a result of its dedication to getting students involved in their classes, Bellevue is the winner of the best online business analysis bachelor's degree for student engagement.
Library and Research Support
Bellevue University understands that all students need access to research assistance and library resources. It therefore offers extensive library services, including tutorials, catalogs, and journals. Students can contact librarians any time of day through the library chat, and also have the option or emailing or calling school librarians. Students can also search for research materials by major. Bellevue University is therefore the winner of best library and research support.
Learning Support
Bellevue University offers live tutoring for its online students, according to U.S. News & World Report. Sessions can be conducted via Skype or telephone. Bellevue also provides learning labs and a writing center to its students. It is therefore the winner of the best online business analysis bachelor's degree for learning support.
Faculty Credentials
Bellevue University understands the importance of having a knowledgeable and experienced faculty body. At Bellevue, all online faculty members must receive training in teaching online classes. According to U.S. News & World Report, the university funds that training. In addition, 66% of Bellevue faculty members have two or more years of online teaching experience. Bellevue University therefore wins the award for best faculty credentials.
Faculty Accessibility
At Bellevue University, online instructors hold 10 office hours weekly, according to U.S. News & World Report. Instructors also track students' participation in their classes. In addition, instructors make sure to respond to student emails within 48 hours. Because Bellevue University instructors work hard to stay involved in their classes, Bellevue University is our winner of the best online business analysis bachelor's degree for faculty accessibility.
Alumni Engagement
Bellevue University provides extensive alumni benefits, which can be accessed through its alumni website. Bellevue alumni have access to social networking sites, career coaching, and library services. They can also attend alumni events and receive newsletters. Due to its commitment to providing university graduates with lasting support, Bellevue University is the winner of best alumni engagement.
Prior Learning Options
Bellevue University offers students multiple opportunities for earning college credit. Students can get credit for military training, passing exams, and life experience, according to the experiential learning assessment student guide. Students can also choose to transfer credits from other colleges and universities. Bellevue University is therefore the winner of the best online business analysis bachelor's degree for prior learning options.
Explore a Bachelor's Degree in Business Analysis
Online degrees in business analysis are typically intended for individuals who already possess an undergraduate degree in a related field. Most are available in either a post-graduate certificate, or a master's program. However, for students interested in pursuing education for the field at the bachelor's level, there are a number of ways to pursue a relatable program. One of the most common ways to do this is to earn a bachelor's degree in business administration with an emphasis in information technology. Programs like these teach students how to analyze business needs, and determine the software needs to evaluate the subject matter. Before choosing a program, it's important to figure out what type of analytics you want to pursue. Some jobs in the field focus specifically on the financial aspect of a business, while others analyze business processes. Others focus entirely on computer systems analysis. So, it is important to try to tailor your education to fit your goals as much as possible.
Class Curriculum
Business analytics is built on the combination of quantitative business principals and computer software applications used to track and evaluate business data. Because of this, most programs blend traditional business practices like accounting, management, and business modeling, with quantitative software knowledge. Some common courses you can expect to see are:
Business Analysis Essentials. This course is designed to teach students how modern analysts determine and plan activities necessary to complete a business analysis effort. Throughout the course, students should gain a mastery of essential theories that govern the performance of all other business and analysis tasks.
Systems Analysis and Design Tools. This course will provide the necessary background and vocabulary for systems analysis and design. Students will learn by practicing data modeling, control modeling, and by learning techniques for architectural design like structure charts and automated software tools.
Database Management Systems and Design. Students taking this course will learn the principals behind database management system concepts like design and implementation. Students must use Relational Algebra and Structured Query Language (SQL) to work with a database, and also use Oracle and/or SQL Server to design a database and complete an application.
Most online bachelor's programs allow students to complete coursework at their own pace within an allotted time for a specific class. Some programs may require students to work towards the completion of a capstone project that can be applied in a business setting, or may require an internship in a business setting before graduating. While it is not required to be certified to work as a business analyst, in can be a good idea for bachelor's level graduates to sit for the Certified Business Analysis Professional exam after gaining work experience.
Building a Career
Graduates holding a bachelor's degree in business, quantitative mathematics, analytics, computer science, or information technology should be able to find employment in a number of business analysis positions. Two of the most common in the field are budget analysts and management analyst. A budget analyst organizes the finances of a public or private organization, and prepares budget reports to monitor institutional spending. Management analysts typically work as consultants who develop ways to improve an organization's efficiency by advising executives on how to make organizations more profitable through reduced costs and increased revenues.
According the U.S. Bureau of Labor Statistics, the median annual income for budget analysts is $68,200, while the average annual income for management analysts was $78,160. Salaries can vary greatly based on the location of the job, the current economy, and amount of experience.
Other Online Business Programs