Best Online Degrees in:

Business Intelligence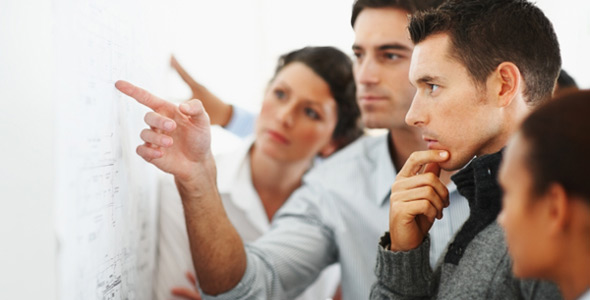 Explore a Bachelor's Degree in Business Intelligence
Online business intelligence degrees help business and information technology professionals gain a mastery of both technology, and quantitative decision making tools, in order to improve one's ability to interpret information. Programs are designed to put technology and mathematical concepts into functional business application. Similar programs can include degree programs in computer information systems, database management, or IT project management. Most online business intelligence bachelor's degrees should take approximately four to five years to complete, but will vary in length from school to school, and program to program.
Class Curriculum
Students entering an online program in business intelligence can expect to take a number of courses in computer science, mathematics, analytics, business, and even courses dealing with human behavior. Students should enter the program with a solid understanding of mathematics, computer science, and modern business software programs. Some common courses you can expect to see are:
Foundations for Business Intelligence. This course is designed to teach students how business intelligence applies to modern businesses from an operations and strategic level. Students will cover topics like value chain, customer service philosophies, business process development and design, and management information systems.
Quantitative Methods for Information Systems. This course provides students with the mathematical fundamentals needed to process quantitative analysis of problems in the field of business computing. Topics throughout the course include combinational mathematics, functions, and the fundamentals of differentiation and integration. Students will leave the class with a concrete understanding of elementary probability theory, and discrete and continues distributions.
Database Security. This course will provide students a knowledge in database security by utilizing scenarios with different database systems, including security, setting up profiles, password policies, privileges, and roles. The course will also provide advanced training with SQL injection, database management system security, and enforcing access controls.
Most coursework for an online business intelligence degree will be able to be performed at your own pace, within the guidelines for each course. While most programs do not require any work outside of regular coursework, certain programs may require the completion of a capstone project that is applicable to a business setting. Certain programs may also require students to gain some type of internship or workplace experience in order to graduate.
Building a Career
Individuals who possess a bachelor's degree in business intelligence should be able to pursue an entry-level position as a security analyst, web developer, or computer network architect. Employees in the following fields use their experience to further a business or organizations information technology goals. According to the BLS, the median pay for individuals working in these fields was $75,660.
Individuals with a bachelor's degree and significant work experience may be able to find employment as a computer and information systems manager within a medium, to large size business. Computer information systems managers plan, coordinate, and direct all computer and technology related activities within a business or organization. According to the U.S. Bureau of Labor Statistics, the median pay for computer and information systems mangers was $115,780.
Other Online Business Programs