Best Online Degrees in:

Quality Management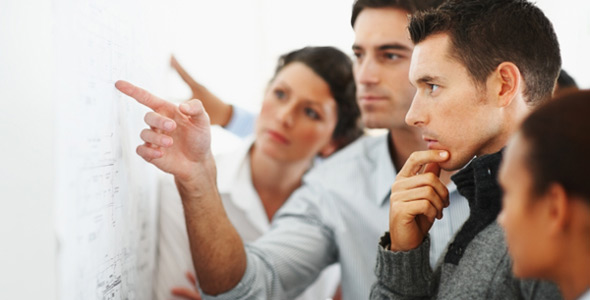 Editor's Picks: Online Schools for Quality Management
Value
The University of Minnesota-Crookston receives this award thanks to its affordable and highly regarded education. According to PayScale.com, the 30-year net return on investment of a University of Minnesota degree is 8.8%. Additionally, Crookston has been ranked among the best value public schools by the Princeton Review and one of the best schools in the Midwest by U.S. News & World Report.
Flexibility
This award goes to the University of Minnesota-Crookston, where distance learning is 100% online, and where students can choose how many courses they want to take a semester, study at their convenience, and access their courses 24/7. Students can also choose to take courses both online and on campus if they desire.
Career Support
The University of Minnesota-Crookston wins this award for its convenient online career resources. Students can find a range of online workshops devoted to strengthening job search skills, with topics including resume writing, cover letters, and interviewing. They can also reach out to alumni, join a mentor program, and look for jobs and internships.
Disability Support
University of Minnesota-Crookston receives the award best online quality management program for disability services. UM-Crookston's disability services department offers several resources for distance education services. Approved students may utilize taped textbook and reading assignments, receive peer tutoring assistance, adapted testing, or closed circuit television offerings for low vision students. The disability services department also offers individual counseling or support group options, specialized computer software, large print text, and resources and links through its website.
Faculty Credentials
The award for best quality management program faculty credentials is presented to the University of Minnesota-Crookston, a public university that ranked among the best public schools by the Princeton Review and listed as 49th in Midwestern regional colleges by U.S. News & World Report. Online students benefit from a dedicated mentor program with personalized attention focused on your strengths and weaknesses. UM-Crookston faculty also offer several internship networking options and resource opportunities for advanced program work.
Faculty Accessibility
The University of Minnesota-Crookston receives this award thanks to its online practices. According to U.S. News & World Report, the school is among the best online programs for student engagement and assessment. At the school, students can expect an instructor response within 24 hours, and instructors hold office hours for five hours each week. Additionally, the student-to-faculty ratio is 24-1, according to the National Center for Education Statistics, and classes of that size help facilitate faculty accessibility.
Prior Learning Options
This award goes to the University of Minnesota-Crookston, which offer several ways for students to gain academic credit before they start. One opportunity is by transferring previous college credit earned at a regionally accredited institution. Students can get an unofficial evaluation before they start to get an idea of what may transfer. Another opportunity is through a Competency Assessment Portfolio, wherein students can prepare a portfolio containing materials and documentation describing professional training and experiential learning, such as professional licenses, certificates, seminars and workshops, which can then be evaluated for college-level equivalency. A maximum of 30 credits can be awarded through prior learning.
New Online Student Orientation
The University of Minnesota-Crookston receives this award thanks to its online orientation class. New students are required to take Orientation to Online Programs, a one-credit course offered every semester that introduces learners to the school's policies, email, virtual private network, online library resources, writing scholarly reports, APA referencing, netiquette, networking in an online environment, and group work in an online environment.
Explore a Bachelor's Degree in Quality Management
Individuals in the field of quality management improve business processes in a range of fields, including health care, manufacturing, and other service-related industries. Quality management students will develop business management skills, as well as the ability to offer ideas and insight into current best practices. In the workplace, quality management graduates will work to improve customer service and other processes. Quality management professionals will work in areas such as quality planning, quality control, quality assurance, and quality improvement; their work will revolve around increasing productivity and improving work environments. A bachelor's degree in quality management may require 40-60 credit hours; specific requirements will vary by program.
Class Curriculum
Quality management students may take classes in team management, marketing, manufacturing processes, project management, and statistical techniques. Major areas of study include:
Business Quality Management. This course will provide an overview of the key elements of a quality management program within a company. Students will learn about widely implemented techniques, such as benchmarking, that are used to achieve quality.
Organizational Leadership.. In this class, students will study various leadership models and styles. Students will learn how to foster motivational, decision-making, and communication skills within a team. The class may also cover topics such as minority and gender issues in the workplace.
Project Management. Students will develop an understanding of project management. More specifically, this class will foster an understanding of the technologies involved as well as financial and contractual matters that are relevant. Students will also focus on the importance of human relations and communication skills.
Some quality management programs may require students to complete an internship, which will allow students to gain hands-on experience. Students may also be required to complete a capstone project that demonstrates their grasp of quality management processes and procedures.
Building a Career
Quality management specialists may work in a wide variety of manufacturing environments, including food, pharmaceuticals, and clothing. Upon completion of a bachelor's degree program in quality management, graduates may work as quality improvement managers, equipped with skills in financial decision making and accounting. Since the fields of quality control and quality assurance are closely related, quality management majors may go on to work in these areas as well.
According to the U.S. Bureau of Labor Statistics (BLS), the median hourly wage of quality control inspectors was $15.88. Government economists estimate that job growth in this profession will be slower than the average growth rate for all professions, at 8%. Individuals should note that these figures represent estimates, and that actual earnings will vary based on experience, location, wider economic circumstances, and a host of other factors.
Other Online Business Programs