Best Online Degrees in:

Business Administration in Finance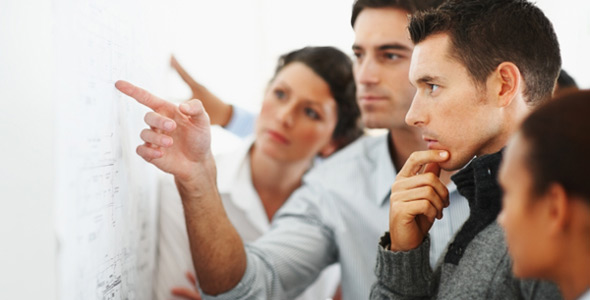 Explore a Bachelor's Degree in Finance
Undergraduate students can obtain a business administration degree with a focus in finance, which will enable them to develop an in-depth understanding of currency risks, stocks and bonds, debt, and other financial aspects at a domestic and international level. Business administration programs that offer a concentration in finance allow students to customize the curriculum through additional classes and electives, aside from core business requirements. In this program, students will learn how to apply software to financial scenarios and learn how to make informed predictions about investments. They will develop their problem solving and number crunching skills as they strengthen their ability to gather and analyze information quickly and efficiently. Business administration in finance programs may require students to complete 100-120 credits, but this requirement will vary by program.
Class Curriculum
Business administration in finance students will learn the theories and principles of accounting, finance, marketing, economics, and statistics. Aside from these business fundamentals, they will take classes geared toward a specialization in finance, such as corporate finance, financial risk management, international finance, and international banking. Students who concentrate in finance may take the following classes:
Financial Institutions and Markets. This class provides a survey of financial institutions from a global perspective. Students will study concepts such as financial institution risk management and the evolving financial and regulatory environment.
Investments. This course focuses on the equity market, covering concepts such as valuation techniques, asset allocation, portfolio theory, risk and return, security market indicators, and international investing. Students will also learn about the bond market, including bond valuation, duration, and bond portfolio management. Classes may also cover the role of computer technology and electronic trading in finance.
Financial Technology. Students will learn how to retrieve and analyze publicly available financial data. They will develop an advanced expertise in software such as Excel, Minitab, and other statistical and financial software by forecasting and building models.
Since strong interpersonal communication skills are essential in business-related fields, students will collaborate with peers while working on group projects and case studies, most likely through a content management system. Students will be evaluated through projects and examinations.
Building a Career
The problem solving and managerial skills that students develop in this program are useful in a number of occupations. Students with a bachelor's degree in business administration and a concentration in finance can work as financial analysts, loan officers, financial planners, debt managers, and insurance managers. They may work in a number of industries, from real estate to computer and information systems management.
As potential careers vary, so do projected salaries. The median annual salary of financial analysts was $74,350, according to the US Bureau of Labor Statistics' Occupational Outlook Handbook. Meanwhile, the median annual wage of loan officers was $56,490. Note that salary projections will vary based on job availability, as well as employer, level of experience, location, and general economic circumstances.
Other Online Business Programs