Best Online Degrees in:

Quality Assurance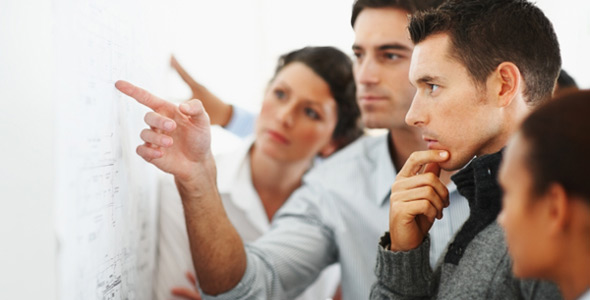 Editor's Picks: Online Schools for Quality Assurance
Value
Online quality assurance degrees are rare, but California State University-Dominguez Hills takes this award for its affordable and accredited program. Students can anticipate a solid return-on-investment from their degree – according to PayScale.com, the 30-year net ROI is 5.7%. As for credentials, the school's quality assurance degree has several professional affiliations, including the American Society for Quality, the National Institute of Standards and Technology, and the Measurement Science Conference.
Featured Online Programs
Flexibility
California State University-Dominguez Hills wins this award for its unique classroom delivery system. Distance learners can tune in or log in to programming from their computer or phone, as course lectures are broadcast live on cable television and the Internet. Miss a session? No big deal – classes are archived on YouTube.
Career Support
California State University-Dominguez Hills is acknowledged for its convenient online career resources. Students can create a solid resume through CSU's resume-building tool, for instance. They can then also find interview tips and job postings.
Financial Support
California State University-Dominguez Hills earns this recognition thanks to its financial aid packages, which are given to an overwhelming majority of students, and assistance. According to the National Center for Education Statistics, 87% of full-time beginning undergraduate students receive aid, with 78% receiving grant or scholarship aid. If students are unsure what kind of financial aid they can expect when applying, they can use the school's net price and cost calculator to estimate their financial aid eligibility.
Disability Support
California State University-Dominguez Hills wins this award for its comprehensive disabled student services. Those with physical or learning disabilities can request taped textbooks for audio learning, course test accommodations, priority registration, and more.
Library and Research Support
At California State University-Dominguez Hills, distance learners can access all of the school's electronic library resources from off-campus, including article and journal databases and digital collections. Students can also find tutorials to help with their research, such as how to cite sources and find articles online.
Faculty Credentials
This award goes to California State University-Dominguez Hills. The school is regionally accredited by the Accrediting Commission for Senior Colleges and Universities of the Western Association of Schools and Colleges, which connotes that the school meets set higher education standards regarding quality and student learning outcomes. The institution also offers professional development for its teachers through its Faculty Development Center, which includes training in teaching resources and online tools.
Faculty Accessibility
California State University-Dominguez Hills receives this award for its notable faculty practices. According to U.S. News & World Report, students can expect an instructor response within 48 hours, as well as instructors to hold office hours four hours a week. This accessibility ranks the school among the top online bachelor's programs for student engagement and assessment.
Alumni Engagement
When distance learners graduate from California State University-Dominguez Hills, they get access to all 23 CSU campus libraries and their online resources. In addition, they can take advantage of their school's career services, such as viewing job postings, attending job fairs, and a consultation with a career counselor, and can connect and network with fellow alumni through various alumni chapters and groups. For these resources, CSU Dominguez Hills receives this award.
Prior Learning Options
The California National University for Advanced Studies receives this award for providing multiple ways students can receive credit for previous learning experiences. Transfer credits may awarded for courses taken at an accredited institution that are applicable to courses at CNU and in which the student earned a "C" or better; standardized tests, such as the CLEP, may cover general education course requirements; and credit may also be granted for military coursework and occupational specialties.
Explore a Bachelor's Degree in Quality Assurance Degrees
It is the responsibility of quality assurance inspectors to ensure that a company is providing the best possible products and services. Quality assurance inspectors and engineers may work in manufacturing and technology industries alike; whatever their specific industry, their work involves inspecting and testing the products or services being offered. In a software or Web development company, they must ensure that all programs work properly and that websites function correctly. In the manufacturing industry, they may test products from food, to equipment, to pharmaceuticals.
Quality assurance is closely related to the field of quality control. While the latter focuses on the end result, quality assurance focuses on enhancing and improving the process that creates the final product. A bachelor's degree in quality assurance will prepare students to manufacture or deliver products or services in an efficient and reliable manner. Quality assurance programs typically require 50 to 70 credit hours, and degree programs blend the basic sciences with management principles, quality concepts, and statistical tools.
Class Curriculum
Quality assurance students will take classes in mathematics, sciences, statistics, and computer modeling. Topics covered include lean manufacturing, quality improvement, systems failure analysis, and electrical metrology. Quality assurance students may take classes in the following areas:
Quality Engineering. This course will cover engineering concepts in the context of manufacturing and service-oriented industries. Students will learn about quality standards, improvement tools, basic statistics, and measurement systems.
Inspection and Metrology.. This course will provide a background in metrology, which is the science of measurement. They will also learn about various measurement tools, measurement systems analysis, and measurement error (R&R) studies.
Systems Failure Analysis. Students will learn how to identify and eliminate the sources of failures in systems, sub-systems, and components. They will develop skills in statistical analysis, as they assist in designing experiments and conducting evaluations.
Some quality assurance programs may require students to complete an internship, during which they will spend a significant amount of time on a production floor. These internships will allow students to gain hands-on experience. Most quality assurance specialists also receive on-the-job training.
Building a Career
Quality assurance specialists may work in a wide variety of manufacturing environments or within large Web development and software companies. Food manufacturers, pharmaceutical companies, and the clothing manufacturers all employ quality assurance specialists. Since the fields of quality control and quality management are closely related, quality assurance majors may go on to work in these areas as well.
According to the U.S. Bureau of Labor Statistics (BLS), the median hourly wage of quality control inspectors is $15.88. Government economists estimate that job growth in this profession will be slower than the average growth rate for all professions, at 8%. Individuals should note that these figures represent estimates, and that actual earnings will vary based on experience, location, and wider economic circumstances. According to the BLS, growth rates are expected to decline due to increased automation within the industry. However, certain manufacturing environments, such as the medical and biotechnology fields, will continue to rely on quality assurance inspectors.
Other Online Business Programs