Best Online Degrees in:

Business Finance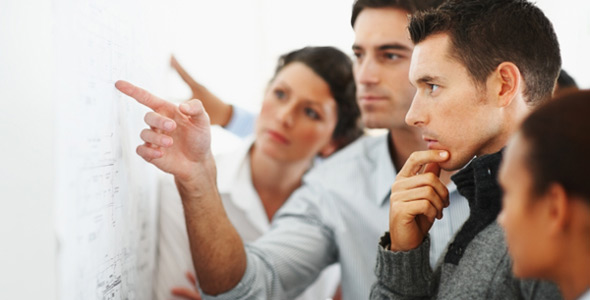 Explore a Bachelor's Degree in Business Finance
Online business finance degrees are most commonly available at the bachelor's level, however there are several programs available at the master's level for individuals interested in continuing their education after earning a bachelor's degree. Most jobs in the finance industry will require at least a bachelor's degree in finance, or a relatable field. Degrees in finance are intended to provide students with a thorough knowledge and understanding of financial institutions, capital markets, and other financial concepts. In most cases, students can complete a bachelor's degree in finance in four to five years, depending on the school and program.
Class Curriculum
Student's pursuing a finance degree at the bachelor's level can expect to complete several basic-level courses like English, composition, computer science, and mathematics, before entering into core curricula. These include courses like accounting, statistics, economics, business law, corporate finance, and more. More advanced courses at the bachelor's level will teach students to improve financial analysis using quantitative concepts and techniques, interpret financial statements, analyze investment and financial risk, and work within the rules of legislation, regulation, and principals of practice. Some common courses you can expect to see are:
Financial Accounting. This course is designed to teach students the fundamentals of accounting, and how to use them to make sound economic decisions. Students will practice developing skills in financial analysis, and how to derive monetary values for making sound business and organizational decisions.
Corporate Finance. This course teaches students the basics of analyzing capital investments relative to goals, risks, and return rates for business planning purposes. The course will also focus on the study of equity and debt financing, dividend policy, and multinational operations.
Ethics for Financial Professionals. Students will investigate ethical problems encountered in financial environments and evaluates the effects of financial decisions on a company's stakeholders.
Most online bachelor's degree programs in business finance will allow students to complete homework and research projects for the course at their own pace, within the guidelines of the course. Courses dealing with quantitative mathematical concepts will require that students take tests to measure the level of understanding developed during the course. Most bachelor's degree programs in the subject will require students to complete an internship, or work study program in a financial or business environment before graduating.
Building a Career
In most cases, individuals seeking a career in finance must have a minimum a bachelor's degree in order to gain entry to the field. However, certain entry-level jobs in banking may permit an associate degree along with applicable work experience. Finance employees ensure that businesses and government are able to source proper funding, and that ensure that investors get a return on their financial commitments. Perhaps one of the most appealing aspects of earning a degree in business finance is that there are a number of jobs in the industry, including entry level jobs like financial clerks, to advanced management positions in personal finance and business management.
According to the U.S. Bureau of Labor Statistics, financial clerks working for banking, insurance, and other companies earned a median annual income of $33,710.. On the other end of the spectrum, financial managers with more than five years work experience in the position earned a median annual income of $103,910. However, it is important to remember that with any financially based career, income can fluctuate drastically based on the education, experience, the location of the position, and the economy.
Other Online Business Programs