Best Online Degrees in:

Business Marketing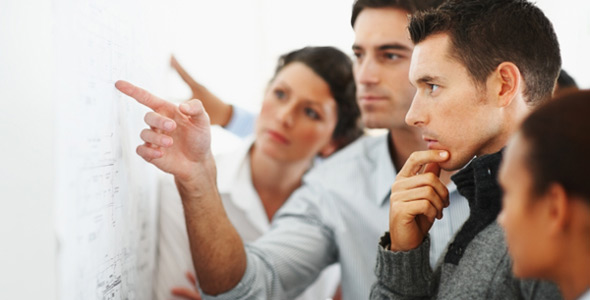 Editor's Picks: Online Schools for Business Marketing
Flexibility
This award goes to Fort Hays State University and its flexible business marketing program. Students can tailor the degree program to meet their specific personal and career goals. If need be, they can also choose to sit out a semester because of other commitments. And with no on-campus residency requirements, they can schedule their study time around their own timetable.
Career Support
Fort Hays State University receives this award for its online career resources for students looking to develop their professional skills. Students can explore careers, work on their resume and interview skills, and peruse job boards. They can also seek advising and learn about tests to earn professional certifications.
Financial Support
The University of Louisiana at Monroe receives this award thanks to its generous financial aid offerings. According to the National Center for Education Statistics, 97% of full-time, beginning undergraduate students receive financial aid during the school year. The same number received grant or scholarship aid, with the average award being $6,348 per student.
Student Engagement
This award goes to Fort Hays State University for providing multiple ways for its online students to connect and engage with the school. These include social tools like Facebook, Twitter, and YouTube and clubs, including the school's American Democracy Project and Center for Civic Leadership. U.S. News & World Report also ranks the school among the top online bachelor's degree programs for its student engagement, including those that give students many ways to participate.
Disability Support
New Mexico State University receives this award for its thorough disability services. Through its Student Accessibility Services, students in need can request services such as alternate text, assistive technology, extended testing time, and early registration.
Faculty Credentials
Fort Hays State University receives this award due to its distance learning training and credentials. According to U.S. News & World Report, 86% of its online faculty have at least two years of online teaching experience. Additionally, training in online instruction is required to teach. The school's business program is also accredited by the Association to Advance Collegiate Schools of Business, the leading accrediting agency for business programs worldwide, which speaks to the school's commitment to the best teaching practices.
Faculty Accessibility
This award goes to Fort Hays State University, which has been ranked by U.S. News & World Report as one of the top online bachelor's programs for faculty and student engagement. According to the publication, students can expect a response from their instructors within 48 hours, and for them to hold five office hours a week. Students can also easily find faculty contact information via an online directory and connect via email, phone, or fax.
Explore a Bachelor's Degree in Business Marketing
Some schools offer business programs with a focus on marketing, in which students will learn how to develop, execute, and control complex marketing strategies. Business programs that offer a concentration in marketing teach students how to target consumers based on their needs and desires. The ability to successfully market a product is at the core of nearly every business, and the field appeals to individuals who are analytical, logical, and creative. Programs generally require students to complete 120 semester hours, but this will vary by program. Other factors, such whether they enroll on a part-time or a full-time basis, will also determine the duration of a business marketing program.
Class Curriculum
Business students who select a concentration in marketing will take core business classes in areas such as accounting, finance, statistics, and economics. In addition, they will take classes in advertising and marketing. In these classes, they will learn about consumer behavior, pricing policies, marketing strategy, sales, research, and public relations. Required courses may include the following:
Consumer Behavior. This course examines how and why consumers behave the way they do. Students will learn about theories regarding consumer behavior based in psychology and other behavioral sciences. Students will acquire a framework for analyzing consumer behavior problems and learn how behavior is impacted by different marketing strategies.
Marketing Research. Students will learn how to conduct focus groups and create surveys, both on the Internet and offline. Students will design questionnaires, interpret data, and present findings. They will learn how to use their findings to develop new marketing strategies that effectively target customers.
Sales Management. Students will learn how to apply sales techniques to a company's sales operations. They will also develop an understanding of the distinction between sales and marketing, as well as what it takes to effectively manage sales. Students will enhance interpersonal communication skills and motivational questioning techniques.
Students will complete individual assignments and examinations. Interpersonal skills are essential in the field of marketing, so projects and case studies will be designed to strengthen communication and teamwork skills.
Building a Career
Marketing is essential to almost every business, so business graduates who have closely studied marketing can find opportunities in advertising, brand management, market research, supply chain management, and public relations. Many recent graduates work in sales, where they get to know their employer's products and its customers. While they will initially fill entry-level positions within the company, business marketing majors can eventually take on roles as account executives, public relations specialists, and marketing managers.
According to the U.S. Bureau of Labor Statistics (BLS), the median annual wage of market research analysts was $60,570, and the median annual wage of sales managers amounted to $98,530. Individuals should keep in mind that these figures are subject to variation, and that actual salaries depend on a number of factors, including the employee's level of experience and job location.
Other Online Business Programs