Best Online Degrees in:

Business Administration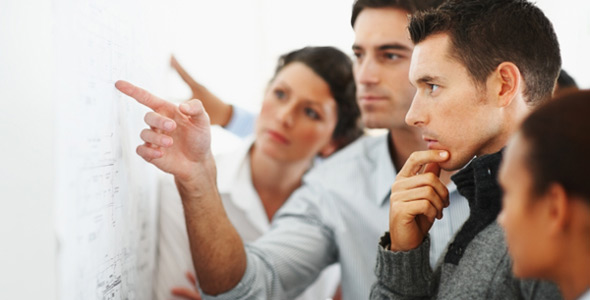 Editor's Picks: Online Schools for Business Administration
Value
The University of Florida wins this award thanks its affordable and well-regarded education. The public school ranks among school's with the best return on investment, with a 30-year net ROI of 10.3%, according to PayScale.com. The school also ranks among the nation's top universities, coming in No. 19 on U.S. News & World Report's "Top Public Universities," No.2 in Kiplinger's "Best Values in Public Colleges," and No. 7 in the Princeton Review's "Best Value Public Colleges." Additionally, UF's business school is one of the fewer than 5% accredited by the Association to Advance Collegiate Schools of Business, the benchmark for business schools across the globe.
Flexibility
At American InterContinental University Online, students can access their courses anytime, anywhere, and through several means, earning itself props for flexibility. Students can look at materials online, as well as on their phone or iPad through AIU Mobile, and they can download presentations and lectures as podcasts for when they're on the go. AIU Online also has a variety of online classes to meet your needs, according to those who need them: the school ranked No. 4 in College Prowler's list of the Best Online Course Options, based on ratings by students themselves.
Career Support
The University of Florida has developed career resource center just for its distance learning students, winning this award for the convenience and accessibility of its career support. Online, students can find help selecting a major through UF's Career Help for Major Planning program; explore different majors, careers, and internships through a series of career roadmaps; practice their interviewing skills through virtual mock interviews; access internships, jobs, career events, and workshops; and connect with recruiters by setting up appointments either on-campus or online.
Financial Support
Financial aid can be confusing, and often an impediment to seeking a higher education. The University of Florida stands out in this category thanks to its comprehensive financial aid packages, as well as its generous offerings. 99% of full-time beginning undergraduate students received financial aid – with 98% receiving grant and scholarship aid, according to the National Center for Education Statistics. Overall, 91% of undergraduate students receive grant or scholarship aid. And throughout the year, students can check on their aid status through the school's online learning center, ISIS.
Library and Research Support
UMassOnline, the online division of the University of Massachusetts, Amherst, wins this award for its extensive library resources and services. Online students have access to one of the largest public library systems in New England, with hundreds of searchable databases and thousands of e-books and e-journals at their fingertips. From anywhere in the world, they can search virtual card catalogs to find a book, search a database to find an article, or contact a librarian via email, phone, IM, or text to find a book or get help researching a paper. If they need a physical book from the library, students can also request its delivery free of charge.
Faculty Credentials
The University of Florida earns this award for its strong business credentials and teacher experience. The school is accredited by the Association to Advance Collegiate Schools of Business, the premier accrediting agency for business schools worldwide. This indicates that the school's business program continues to meet set high curriculum and teaching outcome standards. Additionally, the staff is well-trained, with 90% of the faculty possessing at least two year of online teaching experience, according to U.S. News and World Report. Because of its faculty credentials, UF is ranked among the top online undergraduate programs in the country by the publication.
Faculty Accessibility
This award goes to the University of Florida, where students can expect consistent communication with their professors via phone or email to help accommodate students and their busy schedules. According to U.S. News & World Report, where the university ranked among the top online bachelor's programs for student engagement and assessment, students can expect an instructor response within 24 hours, and instructors hold regular office hours.
Alumni Engagement
American InterContinental University Online receives this award for its efforts to connect its more than 75,000 alumni from across the globe. Graduates and meet and network with their fellow alum through regional alumni chapters, apply for education grants, and connect with the next crop of alumni by becoming a mentor.
Explore a Bachelor's Degree in Business Administration
Students who pursue an online degree in business administration will develop their problem solving and number crunching skills. Best suited for individuals with strong people skills, a business administration degree will teach students how to flourish in the business world as they work their way to top managerial roles. Students will develop communication and decision making skills in the program, which takes two years on average to complete. The length of business administration programs does vary, though, based on individual program requirements, prior credits, and whether the student enrolls on a full-time or part-time basis.
Class Curriculum
Business administration students will learn the theories and principles of accounting, finance, marketing, economics, and statistics. Aside from these business fundamentals, they will also consider issues such as workplace diversity, ethics, and politics. The curriculum will allow students to gain technical knowledge, improve critical thinking skills, and enhance their ability to communicate ideas in a collaborative environment. The core of a business administration program includes these courses:
Accounting. In this technical and numbers-oriented class, students will learn how to maintain financial records of business transactions. They will also learn how to prepare statements concerning assets, liabilities, and results.
Organizational Behavior. This interdisciplinary field includes sociology, psychology, communication, and management to study the actions and attitudes of individuals, groups, and structures within an organization. Students will learn about the impact of these attitudes on the organization's function and performance.
Economics. Students may take several classes within the field of economics, including macroeconomics, microeconomics, and econometrics. Generally speaking, these classes will focus on the study of how individuals, businesses, governments, and societies choose to spend their time and money and allocate resources.
Since strong interpersonal communication skills are essential in business-related fields, students will collaborate with peers while working on group projects and case studies. Students will take exams, and on occasion, they may also complete essays.
Building a Career
A degree in business administration leads to a wide range of careers, since students develop managerial skills that pertain to a number of fields. Graduates of this program may work as accountants, consultants, and investment bankers. They may work in hotels, restaurants, or small businesses, among other industries, where they may budget, organize, plan, hire, direct, control, and otherwise manage these organizations.
As potential careers vary, so do projected salaries. The median pay for accountants was $61,690 per year, according to the U.S. Bureau of Labor Statistics' Occupational Outlook Handbook. The same year, the median pay for economists was $89,450. Note that salary projections will vary based on job availability, as well as employer, level of experience, location, and general economic circumstances.
Other Online Business Programs