Best Online Master's Degrees in:

Business Economics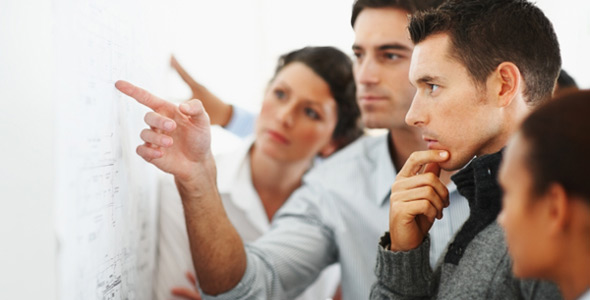 Explore a Master's Degree in Business Economics
Economics is the study of how resources, goods, and services are produced and distributed. Students who have a bachelor's degree in economics and want to make themselves more competitive in the job market should consider enrolling in an online master's degree program in business economics. These programs typically require the completion of 32 credit hours of study for a student to graduate, although the actual time of completing may vary depending on the college or university.
Class Curriculum
In an online master's degree program, business economics students learn how to apply quantitative skills to economic development, strategic planning, consulting, and applied research. They will develop a solid understanding of economic theory, learn how to collect and analyze data, and communicate technical information to others. As such, economics students may enroll in mathematics for economists, macroeconomic theory, empirical methods, price theory, and other courses. Read on for a closer look at three common graduate-level economics courses:
Empirical Methods in Economics. An empirical methods in economics course introduces the concept of econometrics, which is the combination of economics and statistics and their application to economic problems. Students should gain an understanding of statistics and how they apply to economics through course work that gives them practical experience.
Mathematics for Economists. This course covers the mathematical methods used in economic analysis. Students receive further training in calculus, linear algebra, static and dynamic equilibrium models, production functions, and how they apply to economics.
Applied Economic Analysis. This course examines economic impact at the regional and international level by using the principles of economic theory and econometrics. Students may analyze the effects of domestic and global policies, cost estimation, product demand, scale and size economies, wage determination, and more.
Economics students are typically assessed by their performance in class discussions, responses to reading assignments from academic textbooks and journals, homework assignments, research projects, and exams. Depending on the class, some of these courses may determine the overall grade entirely by performance on exams.
Building a Career
An online master's degree in economics may qualify an individual for employment as an economist for a business, research, or international organization. An economist researches and analyzes economic issues, conducts surveys, presents research results, and makes recommendations for solving economic issues. Many economists are employed by federal, state, and local government, where their work helps guide economic policies.
According to the U.S. Bureau of Labor Statistics (BLS), the median annual salary for an economist was $89,450. Keep in mind, though, that your salary may differ from the median, depending on your employer, work experience, and other factors. Although a bachelor's degree is required to be considered for entry-level employment, many hiring firms prefer candidates with a master's degree. The BLS expects employment of economists to increase 6% between 2010 and 2020, which is slower than average for all occupations. This is because the federal government, the largest employer of economists, is expected to have fewer positions available in this field. However, opportunities exist for economic consultants because more companies are contracting out this type of work, according to the BLS.
Other Online Business Programs