Best Online Master's Degrees in:

Digital Marketing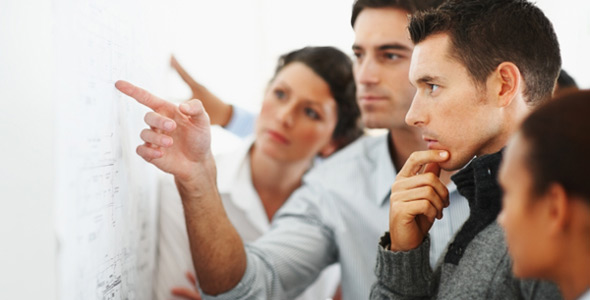 Explore a Master's Degree in Digital Marketing
Digital marketing is a subfield that focuses on the use of television, the Internet, mobile devices, social networking, and other digital media in promoting products and services to consumers. With the increasing prevalence of this technology in our daily lives, digital marketing strategies are becoming increasingly important to businesses across industries. Online master's degree programs in digital marketing will often cover the same core topics as general marketing programs, but with a focus on inventive applications in an increasingly digital marketplace. These types of programs are designed to foster critical thinking skills and strong business sense as it pertains to consumer culture. Graduates can take advantage of openings in social media marketing, search engine optimization, digital strategy, interactive advertising, and other related positions.
Online students have the option to enroll full or part time and many remain at their current positions while earning their degree. On average, a master's program in digital marketing could take anywhere from one to three years to complete. However, note that this can vary based on a number of factors such as the school's curriculum requirements, transfer credits you may be able to apply to the program, and the chosen number of courses you take per term.
Class Curriculum
Digital marketing students can expect foundational courses in business, and traditional marketing courses at the beginning of their master's degree program. Following these introductory courses, students will be able to choose from more specialized courses in subject areas such as digital analytics and content, new media, and Internet retailing. Other curriculum requirements may include classes such as:
Digital Strategy. Courses in digital strategy will focus on how businesses can incorporate the latest developments in online, mobile, and social media into their marketing strategies. Students at the master's degree level may also be required to develop their own digital marketing plans with consideration to scope, purpose, consumer segmentation, and business outcomes.
Social Media Marketing. With the growing prevalence of social media sites and mobile applications, understanding their potential business applications is crucial in today's marketing strategies. Students in social media courses can expect to explore, research, and practice using current and emerging platforms.
Web Analytics. An important part of being able to implement effective digital marketing strategies is being able to analyze web statistics. Courses in web analytics cover topics such as tracking and evaluating consumer behavior, including data on e-retailing, site usage, and search engine keywords.
Students can expect to complete reading assignments, papers, and situational problem sets. In addition, group projects, marketing plans, and presentations are commonly assigned. Depending on the program, there may also be an internship component, designed to provide students with real-world experience prior to graduation.
Building a Career
Graduates with an online master's degree in digital marketing will have a developed understanding of consumer culture and the growing influence of technology and new media on buying habits. Equipped with this knowledge base, they should be prepared to devise marketing plans for a variety of businesses. Job openings in areas such as social media marketing, online advertising sales, search engine optimization, web analytics, and digital marketing strategy are increasing at a high rate. In fact, according to the U.S.Bureau of Labor Statistics, employment opportunities for market research analysts are expected to increase by 41% from 2010 to 2020, much faster than the 14% growth expected for all occupations.
The median annual salary for market research analysts was $60,570. In an increasingly digital marketplace, applicants with a background in digital marketing can certainly have an advantage. However, note that job availability and salary can vary based on location, level of education, work experience, and the general job market.
Other Online Business Programs