Best Online Master's Degrees in:

Finance Management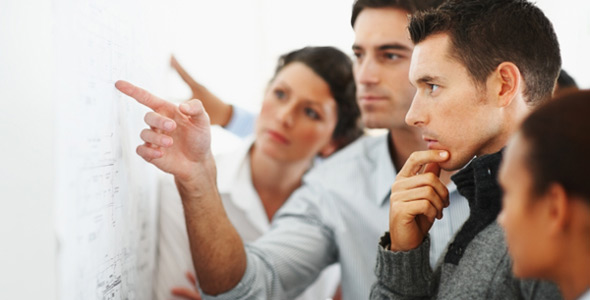 Editor's Picks: Online Schools for Finance Management
Value
Boston University (BU) offers a Master of Science in Banking and Financial Services Management online that offers the best value. BU's traditional business programs rank No. 37 in the nation, according to U.S. News & World Report. BU creates an online environment that allows students to interact with faculty members and each other.
Flexibility
Boston University's (BU) Master of Science in Banking and Financial Services Management provides flexibility. Students can apply for and begin the program at almost any time throughout the year. Students can view lectures and complete assignments at their convenience, although each course also incorporates built-in deadlines so that students can track their progress and work at a manageable pace.
Career Support
Boston University's (BU) online students have access to career resources including job listings, internship and research opportunities, and more. Career counseling and advising services are also available.
Technology Support
Boston University (BU) online students have access to 24-hour technical support, seven days a week. Specialists can help students access course materials and answer related questions.
Library and Research Support
Pace University provides the best library and research support to its online and distance education students. Pace follows the principle that services available to on campus students should also be available to distance education students. Therefore, databases, electronic resources, and librarians are also available to online students. Reference librarians are available via chat, email, or telephone.
Learning Support
Boston University (BU) offers the best learning support services to its online students. Online students can turn to the staff of the Office of Distance Education, course facilitators, and course instructors for support and guidance, or to answer general questions. All are available by phone or email to answer questions.
New Online Student Orientation
Boston University's (BU) brief orientation introduces students to the online learning environment. The orientation allows students to become familiar with the course management system before they begin their online courses. Students will obtain information about the orientation after they are accepted into an online program.
Explore a Master's Degree in Finance Management
Master's degrees in finance management are designed to give students the knowledge and skills necessary for establishing themselves as experts in corporate finance, investments, mergers, and market trends. The field is closely tied to accounting, and most master's programs in finance management require students to complete classes in financial accounting and cost accounting. Students enrolled in finance management programs also learn how manage assets, determine financial risks, and advise corporations with financial decision-making.
Prior to earning a master's degree in finance management, students must earn a bachelor's degree, which can take approximately four years to complete. Then, to acquire a master's degree, students will attend graduate school for at least one year, though programs usually take two years to complete, depending on the curriculum, availability of classes, and whether the student attends on a full-time or part-time basis. However, completion rates vary from program to program, and potential students are advised to contact their schools to determine how long it will take them to earn a master's degree in finance management.
Class Curriculum
Students enrolled in finance management master's degree programs take a series of core classes in subjects like finance, accounting, economics, and risk management. Once those class requirements have been fulfilled, students take more specific classes, such as financial modeling, investment analysis, federal taxes, and risk assessment. Some programs give students the option of specializing in particular aspects of finance management, like corporate financial management or financial markets. Regardless of their concentrations, students commonly take the following classes as components for the master's degree in finance management:
Managerial Accounting. This course teaches students how to utilize accounting processes for management purposes. Enrolled students study organizational operations and how they affect corporate budgets and the allocation of funds. They will also learn to analyze funds and spending activities.
Financial Modeling. Designed to cover multiple topics within the field of finance, this class instructs students in managing risk, forecasting financial trends, and optimizing portfolios. In addition to providing lectures, this course requires students to practice what they have learned by utilizing software like Microsoft Office.
Financial Risk Management. To guide students in the process of financial decision-making, this class teaches students how to evaluate markets and determine risk. Topics covered include methods for measuring and responding to risk, cost analysis, and the behavior of interest rates.
At the master's level, finance management assignments usually involve research a
Other Online Business Programs