Best Online Master's Degrees in:

Finance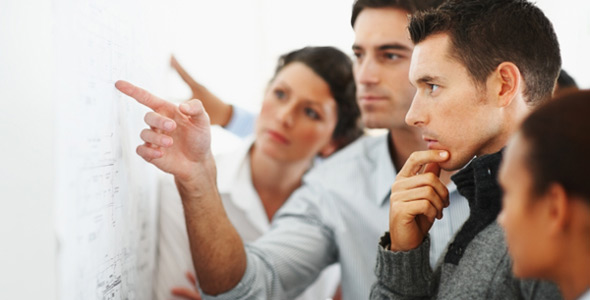 Editor's Picks: Online Schools for Finance
Value
The University of Michigan—Dearborn wins the best master's degree for finance due to its return on investment of 10.4% without financial aid and 11.8% return with financial aid, according to PayScale.com. The University of Michigan also provides a superior value for the breadth of its finance dual degree offerings, alumni network, and schedule allowances.
Flexibility
The University of Michigan—Dearborn wins the award for Flexibility. The program offers expert faculty, expansive opportunities for networking, and the flexibility of evening and on-line courses, all from a highly-ranked program. The degree is open to students of all undergraduate majors and all levels of work experience. You may complete the program on campus, on-line, or any combination of the two (Concentrations are optional, and most require a campus presence). The Master of Business Administration, provides students with the integrated perspective required to solve today's complex business problems.
Career Support
Arizona State University Online provides career service programs for online students, including job search skills, resume writing, and interview techniques, year-round. Students are able to chat online with a career advisor for career advice for the available three hours every day of the week and view live webinars several times a semester. Students may also access a comprehensive career link portal with open positions, on-campus recruitments, and workshops available to students.
Financial Support
Arizona State University Online provides many forms of financial aid available, including scholarships, grants, federal work-study and loans. There are also many scholarships, grants, federal work-study and loans for in-state and out-of-state residents. Many of the financial aid awards are merit-based, however, ASU also provides need-based awards as well.
Technology Support
Penn State University is ranked No. 9 for student services and technology by U.S. News & World Report's Top Online Graduate Business Programs. Penn State offers service for Apple, PC, Unix, and Linux operating systems, delivers class services through both live streaming and recorded audio and video, and offers simulations, online labs, and bulletin boards to support class interaction.
Student Engagement
U.S. News & World Report ranks Penn State University 15 in student engagement and accreditation for instructor response time within 24 hours and Association to Advance Collegiate Schools of Business (AACSB) accreditation. Penn State also provides discussion forums, Skype, and other communication tools for peer collaboration. Penn State provides World Campus student events, online clubs, and philanthropic events in which online students may participate.
Disability Support
Kansas State University's disability support services win the best online master's degree disability support services in a finance program for a range of facilities to assist students with physical impairment or learning challenges. While other online finance programs offer disability support services, Kansas State University offers accommodations online, with special instructions for all online students enrolled in for-credit courses.
Library and Research Support
The University of Florida wins best library and research support for an online master's degree program in finance. The University of Florida provides YouTube library How-To's, video tours, catalogued theses and dissertations, journal articles, books, and other catalogued resources for online students. The University of Florida also provides an online library help desk and e-learning support services for students having technical issues.
Learning Support
Penn State University is our winner for the best online finance master's degree for learning support. Penn State offers an expected timely professor response (within 24 hours average), mentoring, and writing workshops. Penn State also provides live tutoring in writing and math-related fields. Classes are equipped with discussion boards and multiple tools for peer collaboration.
Faculty Credentials
U.S. News & World Report ranks St. Joseph's University (Haub) No. 3 in faculty credentials and training. St. Joseph's faculty require online instruction training (which is financed by the school), and 100% of its faculty have at least two years of online teaching experience. St. Joseph's University is our winner for best faculty credentials in an online finance master's degree program.
Faculty Accessibility and Involvement
St. Joseph's University is our winner for the best online finance master's degree for faculty accessibility and involvement. St. Joseph's University (Haub) has a faculty response of 24 hours or less and three hours of instructor office hours weekly, according to U.S. News & World Report. They employ 16 full-time instructional faculty to teach courses accessible online and five part-time instructional faculty to teach courses accessible online.
Alumni Engagement
Penn State is awarded best alumni association for an online master's degree program in finance. Penn State has a graduate body that forms a worldwide network of more than 500,000 alumni and the largest alumni association in the world with more than 164,000 members. The first year of alumni association membership is free after graduation. As a Penn State Alumni Association member, students have access to volunteer and friendship opportunities, and professional networking through LionLink.
New Student Orientation
Southern New Hampshire University's online orientation course ensures students are prepared for online learning with academic policies, advising, and student support tutorials. Southern New Hampshire University works to ensure all technical requirements and specific student concerns are addressed before the start of a degree program with FAQs, course demonstrations, and Blackboard familiarization tutorials.
Explore a Master's Degree in Finance
Finance includes the study of a variety of aspects of money management from corporate to personal finance. Professionals working in finance monitor money markets, measure and evaluate risks and potential profits, and weigh the value of investments, whether for individual clients or a larger business. Online master's degree students may choose to specialize in a subfield such as corporate finance, personal finance, or financial mathematics. Finance curriculums are typically designed to develop strong analytical skills as well as solid management instincts. Graduates with an online master's degree in finance can pursue opportunities in investment banking, business analysis, financial planning, and other related areas.
Completion times for these types of master's programs can vary based on each school's curriculum, applicable transfer credits, and whether a student enrolls full or part time. The average time for completion ranges from one to three years. However, some online students may also opt to skip summer terms or choose to take a break in the middle of the program, pushing back their completion date.
Class Curriculum
Most finance curriculums are built around foundational courses in economics, business management, and quantitative analysis. Once students complete these core courses, they will complete more advanced classes in specialized topics such as venture capital and investment banking, mergers and acquisitions, securities law, and international finance. Other common subjects include:
Financial Statement Analysis. Students in this type of class will learn concepts in financial accounting procedures and how to use this information to make informed investment and business decisions. Course work will be designed to develop analytical thinking skills based on statistical data from accounting records.
Risk Management. Risk management requires the analysis of a number of factors including, but not limited to, foreign money markets, interest rates, and commodities. Courses like this will review the financial tools available to manage such risks.
Ethical and Professional Standards. Courses emphasizing the law and ethical standards of the financial services industry are also important staples in finance degree curriculums. Topics of discussion may be influenced by current and past events in the finance industry and will often include role-playing exercises and simulations.
Course work will include reading assignments, situational problem sets, written papers and reports, and role-playing exercises. In addition, students should expect team projects and in-class focus groups. Collaboration is an important part of success in the industry and is reflected in many programs' curriculum design. Depending on the program, students may also have to complete a capstone project, which incorporates field research and original analysis.
Building a Career
Graduates who earn an online master's degree in finance will build a strong foundation in financial analysis, economics, business management, and accounting. They will also have developed analytical skills and refined business instincts. This skillset prepares them to pursue careers as financial analysts, investment bankers, and personal financial advisors. While most finance positions are in the private sector, some government opportunities are also available.
As working professionals in the industry, they will weigh the risks and rewards of investments and business decisions, as well as ensure that all legal and ethical standards are upheld in regards to a company's financial decisions and records. Despite some industry cutbacks, the job outlook for trained financial professionals is favorable. According to the U.S. Bureau of Labor Statistics, 23% job growth is expected for financial analysts from 2010 to 2020. This is significantly higher than the 14% growth expected over all occupations. Financial analysts earned a median annual wage of $74,350 and personal financial advisors earned a median of $64,750. However, note that actual starting salaries and job openings can vary based on work experience, level of education, location, and the general economic climate.
Other Online Business Programs