Best Online Master's Degrees in:

Quality Control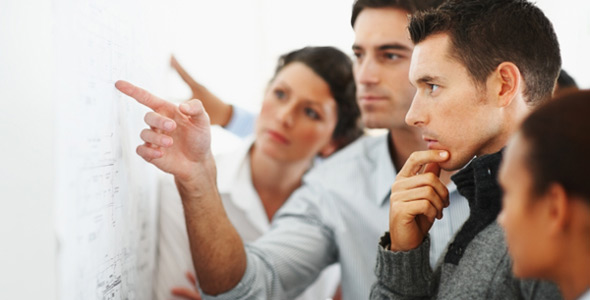 Editor's Picks: Online Schools for Quality Control
Value
The best online master's degree program in quality control, in terms of value, is Southern Polytechnic State University. This public four-year institution located in Marietta, Ga., boasts reasonable tuition rates, as well as a strong track record of awarding adequate financial aid. According to PayScale.com's Return on Investment Rankings, Southern Polytechnic State University has a 6.9% annual ROI when aid was taken into consideration. In addition, the school was ranked among the top 100 regional universities in the south by U.S. News & World Report, which takes into consideration the cost, quality, and availability of programs, as well as on-time completion and student retention rates.
Featured Online Programs
Flexibility
California State University — Dominguez Hills' online master's degree program in quality assurance offers students access a dynamic online learning environment. The school provides a mixture of synchronous, asynchronous, and hybrid learning, adjusted to fit each educational activity or course. This allows working adults to adapt the program to their personal and professional schedules. Online programs at CSU Dominguez Hills utilize Blackboard, a virtual learning platform thath lets students participate in discussions with peers and instructors, view assignments, watch videos, and access readings any time they're online. This flexibility and adjustment in course structure, depending on the subject at hand, earn California State University – Dominguez Hills the top spot in this category.
Career Support
Calumet College of St. Joseph was selected as the best online master's program in quality control for their career support. This private four-year school in Whiting, Ind., has a strong career services department, providing students with career self-assessment tools, counseling and advising, internship planning and placement assistance, recruiting opportunities, electronic resume and job listing resources, and an extensive career resource library. The school can even help students arrange job shadowing and mentoring opportunities in their local area. Career fairs are also hosted on a regular basis for those able to travel to campus during the scheduled times.
Financial Support
California State University — Dominguez Hills has a strong history of awarding adequate financial aid, while maintaining a low proportion of students having to take out federal and private educational loans. According to the National Center for Education Statistics, 87% of students at CSU Dominguez Hills received financial aid, and 78% received some aid in the form of grants or scholarships. In addition, only 34% of students took out federal loans to finance their education and loan default rates for graduates of CSUDH were relatively low at 4.4% in 2009. For these reasons, the school is ranked as the best online master's degree in quality control for financial support.
Technology Support
Southern Polytechnic State University has been offering distance education courses since 1995 and has a strong reputation for assisting their students in using all available technology services. In fact, U.S. News & World Report ranked SPSU on their list of the best online education programs for student services and technology. Students have access to 24/7 technical support should they need assistance. With this in mind, Southern Polytechnic State University was the winner for the best online master's degree in quality control for technology support.
Disability Support
Calumet College of St. Joseph's online master's degree in quality assurance earned the top spot for disability support. The school, together with their Academic Support Programs division, is committed to meeting the education needs of all their students in accordance with Americans with Disabilities Act (ADA) guidelines. Disability services provided include tutoring, counseling, alternative format to text, testing accommodations, and referral to community organizations for further assistance.
Library and Research Support
Online students at Southern Polytechnic State University will have access to eCore, a virtual learning platform and electronic resource collection for the University System of Georgia. This platform includes extensive library services offered through Georgia Library Learning Online (GALILEO). Students will have access to full-text versions of hundreds of periodicals and scholarly journals for their research needs. GALILEO also provides resources such as electronic versions of encyclopedias, business directories, and government publications. For this reason, SPSU received the award for best online master's degree in quality control for library and research support.
Learning Support
Southern Polytechnic State University's online master's degree in quality assurance won the top spot for learning support. The University System of Georgia's eCore system, which students at SPSU utilize, provides a number of tutoring and writing resources. This includes Smarthinking online tutoring. This program facilitates live interaction with online instructors and provides an online writing lab, as well as resources for citations and formatting of academic papers. These services are not only available to help online students who may not be able to travel to on-campus tutoring sessions, but are available to them 24/7.
Faculty Credentials
The award for best online master's degree in quality control for faculty credentials goes to Southern Polytechnic State University. The school received recognition from U.S. News & World Report for their online education programs in categories such as faculty credentials and training, as well as student engagement, reflecting well on instructors' ability to assess and foster intellectual growth among their students. All professors for SPSU's master's program in quality assurance have their Ph.D.s as well as valuable work experience in the field. This allows them to provide instruction from both theoretical and practical perspectives.
Alumni Engagement
California State University — Dominguez Hills offers all graduates free membership in the Alumni Association. Membership includes a number of benefits such as discounts for athletics events, university theater productions, and even auto, home, and renters insurance. Students will have access to professional mixers, career services, campus libraries in the California State University system, and the Osher Lifelong Learning Institute. Alumni will also receive monthly newsletters and access to web magazines with information about programs, events, partnerships, and networking opportunities. Given these resources, CSUDH was the winner of the best online master's degree in quality control for alumni engagement.
Explore a Master's Degree in Quality Control
If you find yourself in a mid-level job in the science, consumer product, or another manufacturing or service-related industry and take on quality control tasks, an online Master of Science in Quality Assurance (MSQA) might be the right degree for you. Students in such degree programs gain a broad understanding of the quality control industry throughout history and the inner-working of businesses from quality control and regulatory standpoints, in addition to the skills necessary to ensure that products and services are of the highest quality. Degree attainment is usually met by full-time students in two years. However, no two MSQA degrees are the same; thus, some programs may require more or less than two years to complete. Part-time attendance is an option offered by many educational institutions, and the students who choose that path can expect to get their degree in more than two years' time.
Class Curriculum
Students' course work will focus on the girth of elements that make up quality insurance. They will find many of their courses are statistics-laden, comprising of how to gather and interpret statistics they calculate, as well as apply statistics to their work in quality control. They will also take at least one course relating to management information systems, which are management tools common to the industry and used to ensure quality products and services. In addition to these types of courses, students might take:
Statistical Methods. Students will learn to employ statistical methodology and theories in this course. For instance, they will learn about hypothesis testing, probability, and distributions as they relate to quality control. They will also become familiar with how to use these statistics to face managerial issues on the job.
Introduction to Quality Assurance. Examining the world of quality assurance from a historical perspective, students will come to know various principles and procedures employed now and in the past. They will be introduced to the ethical code upheld by industry professionals, as their jobs have the capacity to negatively impact the lives of others.
Quality Management Leadership. This course sets out to teach students the basics of being leaders as quality control managers . Students will gain an understanding of leaders' roles, leadership theories and practices, and strategies for being successful as a leader.
Like any other degree, this master's program will require students to read complex materials relating to the business and methodology of quality control. As statistics play a huge role in this program, students should expect assignments that ask them to demonstrate an understanding of, and ability to apply concepts within, statistics in the quality assurance field. Online course discussions are frequently a required part of this program. Many programs also require students to complete a capstone project towards the end of their studies. Combining their new knowledge with a special topic in the world of quality control, students will complete a research project and paper.
Building a Career
With the skills and knowledge to serve the quality control field in a variety of industries, students will also be fully prepared to take these field-related certification exams: Certified Reliability Engineer (CRE), Certified Quality Auditor (CQA), Certified Quality Engineer, (CQE), and Certified
Quality Manager (CQM); these certifications are frequently needed for upper-level positions. Often times, graduates enter careers such as industrial production managers and quality assurance managers. Industrial production managers oversees industrial projects, such as automobile manufacturing, managing staff members and projects, and analyzing and planning project designs, progress, and resource allocation. According to the U.S. Bureau of Labor Statistics' figures, those in this career earned $87,160 a year.
Quality assurance management is another fitting career path taken by graduates. As quality assurance managers, they will supervise and advice staff members on the design, testing, and production of consumer or business products. It is the responsibility of the quality assurance manager to ensure that products conform to industry regulations, are free of defects, and meet important product specifications. To attain their career position, quality assurance managers must pass the Certified Quality Manager (CQM) exam. PayScale.com data demonstrates that those in this career earn between $40,294 and $106,839 annually, with an average pay of about $73,000. Remember, however, that salaries are completely dependent on individual circumstances and companies; no salary report is a guarantee.
Other Online Business Programs