Best Online Master's Degrees in:

Real Estate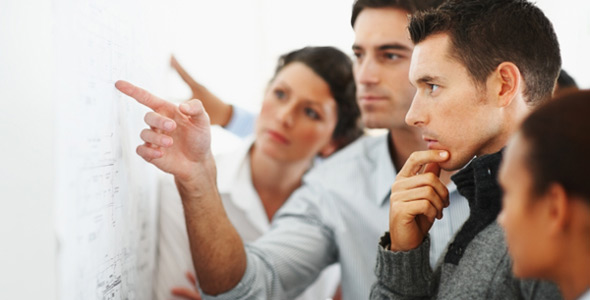 Editor's Picks: Online Schools for Real Estate
Value
Florida State University was awarded the title of best online master's degree in real estate for value. This public four-year institution, located in Tallahassee, offers students reasonable tuition rates, strong academics, and generous financial aid packages to help manage the cost of higher education. In addition, U.S. News & World Report ranked the university among the top 50 best public schools in the nation. PayScale.com's Return on Investment Rankings reported that in-state students can expect a ROI of 8.8% when financial aid was factored into the equation. Despite increased tuition rates, out-of-state students can also anticipate a relatively strong ROI of 6.4%.
Featured Online Programs
Flexibility
The award for best online master's degree in real estate for flexibility goes to the University of Denver. This private nonprofit institution was ranked among the top 100 universities in the country by U.S. News & World Report. Online programs at the University of Denver utilize both live web-based and asynchronous learning components. Students always maintain the flexibility to participate in discussion boards, chats, and access course materials and assignments at their convenience, from any location with Internet access. Designed specifically to cater to working professionals, the program marries theoretical and practical instruction to allow students to incorporate learning exercises into their daily experiences in the field.
Career Support
The best online master's degree in real estate for career support is Florida State University. The school has a full-time staff of professionals at their career center dedicated to helping students succeed in their working lives. Services provided to both on-campus and online students include career guides and resources, mock interviews, portfolio development, resume and cover letter editing, internship placement assistance, and electronic job listings. Online students who are able to come to campus can also participate in regular workshops and job fairs.
Financial Support
Florida State University topped our list for the best online master's degree in real estate for financial support. The National Center for Education Statistics reported that 96% of students received aid. Of those who received aid, 95% received some in the form of scholarships or grants. In addition, the number of students who took our loans to finance the cost of higher education was relatively low at 37%. The loan default rate for Florida State University graduates was only 3.4%, demonstrating manageable levels of debt.
Technical Support
Florida International University was awarded the top position for best online master's degree in real estate for technical support. U.S News & World Report ranked the school's online graduate-level business programs among the top 70 schools for student services and technology. Students with difficulties can email or chat live with tech support staff seven days a week from 8 a.m. to 10 p.m. During the week, support is also available over the phone or on campus. A number of online troubleshooting tips are accessible for self-help reference as well.
Student Engagement
The best online master's degree in real estate for student engagement is Florida International University. This public four-year institution located in Miami serves more than 44,000 students, including an expanding number of online students. U.S. News & World Report ranked FIU's online graduate-level business programs among the top 20 schools for student engagement and accreditation. Easy access to academic advising, a highly interactive virtual classroom, and faculty members trained and experienced in working with distance learners all contribute to Florida International University's distinction in this category.
Learning Support
Located just south of Portland, Ore., Marylhurst University is a small private four-year school. A student-to-faculty ratio of 5 to 1 ensures that students, even in the online environment, receive the individualized instruction and engagement that they need to succeed. In addition, the school offers students access to academic, technical, and administrative assistance through a highly-skilled staff. Each student will have an enrollment advisor assigned to them and can also directly contact the program coordinator's office for assistance with administrative issues. All of these resources place Marylhurst at the top of our list for the best online master's degree in real estate for learning support.
Faculty Credentials
Florida State University earned the award for best online master's degree in real estate for faculty credentials. U.S. News & World Report ranked the school's online graduate business programs 20th for faculty credentials and training. The school employs 22 full-time faculty members for their online business programs. These individuals have an average of seven years of experience teaching in an online environment. In addition, Florida State also seeks out instructors who have a wealth of professional experience in their field and can thus provide students with unique insight into real-world issues.
Alumni Engagement
Florida State University's Alumni Association provides a number of benefits such as discounts to area businesses, access to athletic events, career services, as well as networking events. There are also nearly 60 Seminole Clubs across the globe, which offer alumni the opportunity to stay connected through hundreds of events every year. These events can range from community service projects to seminars and continuing education programs. With all these factors considered, Florida State University was chosen as the best online master's degree in real estate for alumni engagement.
Explore a Master's Degree in Real Estate
The buying, selling, and renting of property is big business, and one that requires knowledgeable professionals who can get the job done. Those who are serious about developing their career in the real estate industry may want to consider studying real estate on the graduate level. Programs leading to master's degrees in real estate allow students to take a deeper look at this integrated field and how factors like finance, investment, policy, economics, and project management play a role. Often offered within a business school, these types of programs help students develop the skills and abilities required to thrive in this fast-paced industry.
There are several types of graduate real estate degrees available, including, but not limited to, a Master of Science in Real Estate, a Master of Real Estate, Master of Professional Studies in Real Estate, or a Master of Business Administration with a concentration in Real Estate. As two-year graduate programs, master's degrees in real estate usually require students to complete around 30-40 credit hours. However, prospective students should keep in mind that program completion time can vary by school, program, previous education, and full-time or part-time enrollment status.
Class Curriculum
Students who choose to enroll in a graduate real estate program will get a firm grasp on the foundations of real estate including development, design, finance, investment, and market. They will learn how to keep track of industry regulations, conduct real estate transactions and contracts, and how to effectively manage real property and assets. Courses typically address topics such as real property analysis, land economics, commercial real estate law, and property finance. Courses commonly required in a real estate program include:
Real Property Valuation. This course looks at the procedures involved in estimating the market value of real property, and market analysis and valuation techniques involved in appraising income-producing properties. Students will examine case studies as they explore topics like appraisal reports, real estate investment analysis, and real property finance.
Financing Real Estate Investments. In this course, students will learn about real estate capital markets and how they affect the institutional real estate financing. Upon completion, they will also have a solid understanding of public vs. private capital sources, fiduciary responsibilities, and the impact of securitization.
Real Estate Development Analysis. Addresses the financial aspects of real estate and the role a developer has in the development process, including applying accurate marketplace information and directing specialists in project coordination. In addition, students also explore risk management strategies developers use.
Students in real estate graduate programs can expect to complete group projects where they collaborate on real estate plans regarding development, financing, and management. They may have to complete a capstone project independently where they solve a specific real estate challenge. In addition, some programs require students to participate in a professional internship where they will receive on-the-job training in an organizational setting.
Building a Career
With this type of graduate degree, one can pursue a career in the real estate industry developing, managing, and marketing commercial and residential properties. Students leave the program with the knowledge necessary to make informed decisions in the real estate market, guide clients in real estate deals, estimate the value of property, and manage the development of various types of properties. A master's degree in real estate can help one enter or advance in various real estate positions, including real estate brokers and sales agents, real estate managers, and real property assessors.
According to the U.S. Bureau of Labor Statistics, by 2020 the employment of real estate brokers and sales agents, is projected to increase by 11%, employment of real property assessors by 7%, and employment of property, real estate, and community association managers is projected to grow by 6%. In terms of median annual salaries, the BLS reports that real estate brokers and sales agents earned $42,680, real property assessors
earned $48,500, and property, real estate, and community association managers earned the most at $51,480. But even though holding a graduate degree can increase your employability and salary, one must keep in mind that these projections are not guarantees, as job availability and salary often depends on factors like experience, location, education level, economic conditions, and more.
Other Online Business Programs