Best Online Master's Degrees in:

Marketing Management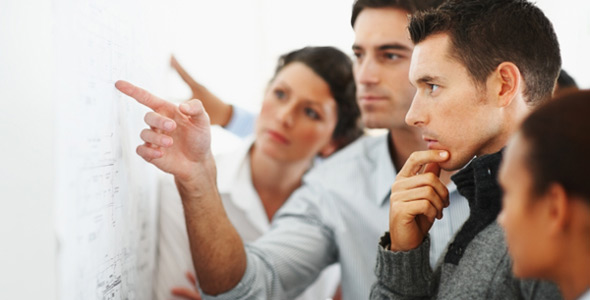 Editor's Picks: Online Schools for Marketing Management
Value
The best online master's degree in marketing management for value is Boston University's international marketing management graduate degree. According to PayScale.com, Boston University has a return on investment (ROI) of 7.6% without financial aid and 9.5% with financial aid. It ranks as No. 111 out of 1,248 schools on PayScale.com's list of the best schools for value. In addition, Boston University is also ranked No. 37 on U.S. News & World Report's list of the best graduate business schools.
Flexibility
Boston University understands that students have busy lives and often work or raise families alongside attending classes. It therefore seeks to provide a flexible curriculum for students that don't have a lot of time to dedicate to school. Its distance education programs provide that flexibility by allowing students to attend school over the Internet on their own time, rather than on campus. Boston University therefore wins the award of best flexibility.
Career Support
Boston University is the winner of the best online master's degree in marketing management for career support. Its services include job and internship searchers, events, newsletters, counseling, and career and graduate school fairs. There are resources to help faculty members prepare students to transition from the classroom to the working world as well.
Financial Support
New England College awards 100% of its first-time, full-time students with some form of financial aid, according to the National Center for Education Statistics. In addition, 91% of undergraduates receive scholarships and/or grants. New England College is therefore our winner for best financial support.
Technology Support
Boston University offers its students and faculty members multiple ways to seek help with troubleshooting technical problems. They can use the technical support website to access information about service outages and problems, access updates on Twitter, read tips, find resources, and fill out a help ticket. Boston University's dedication to providing technical help makes it the winner of the best online marketing management master's degree for technology support.
Student Engagement
At New England College, professors care about their students. Class sizes are kept small, with a student-to-teacher ratio of 7-to-1, in an effort to maximize student participation, the National Center for Education Statistics reports. In addition, New England College is ranked on College Prowler's list as No. 281 out of 1,161 colleges and universities for having interested professors. Because the college works so hard to ensure students are active learners, New England College is the winner of the best online marketing management master's degree for student engagement.
Disability Support
Boston University is dedicated to providing accommodations and support for students with disabilities. Its website provides disability information, resources, and events. Boston University is therefore our winner for best disability support.
Library and Research Support
Boston University has extensive online library services for both traditional and distance learners. Students can perform easy searches within catalogs and journals, and can access an "Ask a Librarian" page if they run into any trouble. The library website also provides guides, how-to pages, and interlibrary services. Boston University is therefore the winner of the best online marketing management master's degree for library and research support.
Learning Support
Boston University has an educational resource center that provides students with multiple options for learning support. There is foreign language support, tutoring, writing help, and advising, as well as many online resources and tips. Because it provides its students with a strong academic support system, Boston University is the winner of best learning support.
Faculty Accessibility
New England College is the winner of the best online marketing management master's degree for faculty accessibility. At New England College, the student-to-teacher ratio is a low 7-to-1, the National Center for Education Statistics reports. By keeping class sizes small, the college ensures that faculty members have the time and effort to dedicate to individual student needs.
Alumni Engagement
Boston University wants to remain a beacon of networking and involvement, even after students graduate. That's why it provides alumni with extensive options for engagement. Services include social networking opportunities, worldwide events, an alumni publication, career help, and an alumni directory. Boston University is therefore the winner of best alumni engagement.
Prior Learning Options
The award for best prior learning options goes to Hope International University for its business administration with a concentration in marketing management master's degree. Hope International accepts credit by exam, credit for military and industry training, and credit for life experience, according to the school catalog.
New Online Student Orientation
Boston University provides an orientation for online students. During the orientation, students will learn to configure their computers and acclimate to distance learning. They will also gain an understanding of the way online classes are conducted. Boston University is therefore the winner of the best online marketing management master's degree for new online student orientation.
Explore a Master's Degree in Marketing Management
Marketing management is a subfield of business that examines the application of marketing techniques as a key component of a company's resource allocation and strategy. Understanding consumer demand and habits is crucial to making the best management decisions. Therefore, marketing managers are key advisors for a variety of different companies.
Online master's degree programs in marketing management seek to help students develop strong critical thinking skills as well as a deep understanding of consumer culture as it relates to business strategy. Core classes will typically cover traditional marketing principles, as well as business administration, finance, and economics. Strong communication skills are also important for individuals interested in working in this field. Graduates can pursue positions as marketing managers, market research analysts, or advertising managers with a number of different private sector companies.
An online program allows students the flexibility to enroll full or part time while continuing at their current jobs. On average, a master's degree in marketing management can take one to three years to complete. However, time to completion can be influenced by a number of factors, such as the number of courses taken per term, transfer credits applied to the program, and whether or not a student remains continuously enrolled.
Class Curriculum
Students enrolled in an online master's degree program in marketing management can expect foundational classes in marketing strategy, business administration, and economics. In addition to these introductory topics, core curricula cover business communication, public relations, market research, business analytics, and fiscal management. Some specific examples of course subjects for marketing management programs include:
Consumer Behavior. Courses in consumer behavior analyze the psychological, sociological, and economic influences behind buying habits. Students will then explore the most effective marketing strategies based on these influences.
Global Business Management. Courses in global management consider marketing and operations strategies in a global economy. This area of study relies heavily on economic and business management theory, therefore, some prerequisites may be required.
Decision Making. This type of course is designed to develop students' analytical thinking skills and business instincts. The course work will cover topics such as the pillars of capitalism, economics, and statistical analysis.
Common assignments in this type of program include readings, written papers, situational problem sets, role-playing exercises, and research projects. In addition, due to the importance of collaboration in the business world, group projects and presentations are also commonly assigned. Some schools may require an internship component or a field-based research project prior to graduation as well.
Building a Career
Following the completion of an online master's degree in marketing management, graduates should be equipped with the knowledge and critical thinking skills necessary to evaluate consumer culture and behavior for the purpose of making informed management decisions. Graduates may work as promotions, advertising, or marketing managers or market research analysts. Their analysis and input will help shape the direction of an organization, making them a very important part of successful business strategy.
Despite the economic downturn, market research analysts are in high demand. According to the U.S. Bureau of Labor Statistics, 41% job growth is expected over the projection period of 2010 to 2020. This is much faster than the 14% job growth expected for all occupations over this timeframe. The demand for advertising, promotions, and marketing managers is expected to grow as fast as average, at a rate of 14%. The median annual wage for market research analysts was $60,570, while the median wage for marketing managers that same year was $112,800. However, actual starting salaries and job availability can vary based on level of experience, education, the specific employer, location, and general job market.
Other Online Business Programs