Best Online Master's Degrees in:

Risk Management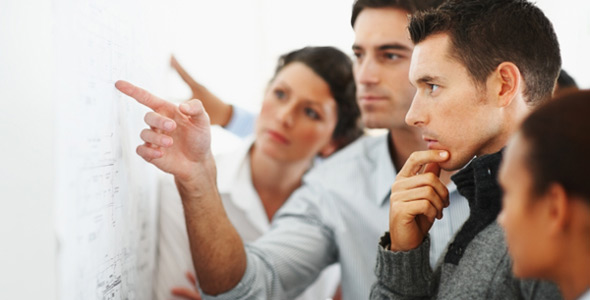 Editor's Picks: Online Schools for Risk Management
Value
Boston University was selected as the top online master's degree in risk management for value. A strong academic reputation, accomplished faculty members, and good financial aid packages all influence BU's placement at the top of this category. The school was ranked 53rd on U.S. News & World Report's list of the top national universities. In addition, PayScale.com reported that graduates can expect a 7.6% return on investment according to their annual ROI Rankings. This increased to an expected 9.5% return once financial aid was factored in to the equation.
Featured Online Programs
Flexibility
The best online master's degree in risk management in terms of flexibility is Walden University. With the majority of their programs designed for distance learners who are trying to balance the responsibilities of their professional and personal lives, Walden is highly invested in creating an adaptable learning environment. Online courses are delivered asynchronously, meaning students do not have scheduled times they must log in to the virtual classroom. Rather, students are free to access course materials, complete assignments, and participate in discussion boards at times that are most convenient for them.
Career Support
Florida State University was awarded the title of the best online master's degree in risk management for career support. Ranked among the top 50 public schools in the nation by U.S. News & World Report, FSU is located in Tallahassee and serves more than 31,000 students. The school is not only dedicated to providing students, both on-campus and online, with solid academic instruction, but is also dedicated to ensuring they have the training and resources necessary to find success in their careers as well. Career services available to online students include major and career exploration, mock interviews, workshops, resume and cover letter editing, salary and hiring data, and electronic job postings. Distance learners able to commute to campus at scheduled times may also take advantage of career fairs, networking opportunities, and recruiting events.
Technology Support
Walden University was chosen as the top online master's degree in risk management for technology support. As a primarily distance learning institution, Walden offers students the assistance they need to adjust to the virtual classroom and work through any other issues they may have with the technology. Student support services include a self-paced online orientation and assistance with locating textbooks, resources, and assignments. In addition, technical support services are available 24 hours a day, seven days a week.
Financial Support
The best online master's degree in risk management for financial support is Florida State University. The school has a strong track record of awarding generous financial aid packages to assist students and their families with the cost of pursuing further education. According to the National Center for Education Statistics, 96% of incoming students received financial assistance. Of those who received aid, 95% received a portion of that aid in the form of scholarship or grant money. In addition, the percentage of students who took out loans to finance their schooling was fairly low at 37%.
Student Engagement
Florida State University was awarded the title of best online master's degree in risk management for student engagement. Ranked 46th on U.S. News & World Report's list of the best public schools in the nation, FSU's online graduate business programs also received recognition for their strong levels of student engagement. A state-of-the-art virtual learning environment, instructors skilled in working with distance learners, and easy accessibility to student support services all help to place Florida State at the top of this category. In addition, online students can build bonds with their peers through chat, discussion boards, virtual meetings, and social networking.
Faculty Credentials
Boston University ranked at the top of our list as the best online master's degree in risk management for faculty credentials. This private four-year institution was number 53 on U.S. News & World Report's list of the best national universities. In many ways, BU's accomplished faculty members are the cornerstone of this strong academic reputation. The school places a great deal of importance on providing the same level of instruction to online students as they do for those on campus. This means distance learners will be taught by the same professors as their on-campus counterparts. In addition, most faculty members are experienced professionals who bring a wealth of real-world knowledge to the classroom, enhancing the learning experience.
Alumni Engagement
The best online master's degree in risk management for alumni engagement is Florida State University. The school boasts an expansive alumni network and offers graduates access to insurance and travel discounts, financial services, athletic events, career services, and continuing education opportunities. Alumni groups across the country also host events, community projects, or seminars in an effort to strength the alumni network. All of these benefits place FSU at the top of this list for alumni engagement.
Prior Learning Options
Walden University was selected as the best online master's degree in risk management in terms of prior learning options. This private, primarily distance learning, institution is dedicated to helping adult students get the most out of their education. Students may be eligible to transfer a certain number of hours from course work completed at another accredited college or university. In addition, adult learners may be able to earn credits through Walden's prior learning assessments or professional experience evaluation program. The variety of options students have for accelerating the degree track earns Walden the top spot in this category.
Explore a Master's Degree in Risk Management
Opening up the door to higher job positions, many in the financial, insurance, and management fields choose to acquire their Master of Business Administration (MBA) or Master of Science (M.S.) in Management degree with a concentration in risk management. This concentration gives students a foundation for managing the risk businesses regularly come across through their understanding of the methods used to recognize, analyze, and reduce risk. Commonly completed by full-time students in one to two years, those who have already taken applicable master's courses can complete their degree in less than the typical time. Meanwhile, those who must study part time will find their degree time extended beyond the typical. However, degree plans vary amongst schools; thus, the time it takes to complete a degree can also vary.
Class Curriculum
Students will take courses related to the business subdivisions of management and finance. Courses will teach them how to analyze business issues and risks from numerous perspectives. These issues can include environmental, professional, and financial risks and liabilities. They will also teach students how to interpret and apply those analyses, introducing them to tools, programs, and strategies for curbing risk. More specifically, students may take:
Risk Management Research. Students will be taught the theories behind, and fundamental tools for conducting, risk management research. It requires students to engage in mathematics and financial calculations, such as calculating expected values, Value at Risk, various statistical distributions, and scenario analyses.
Financial Risk Management. A financial risk management course covers the basics of risk assessment theory in relation to financial markets and evaluating assets. Students will come to understand the role valuation techniques and tools play in the industry, and how they're utilized by professionals to develop strategy paths.
Risk Fundamentals. Risk fundamentals, or some version of it, will be one of the first courses students take. From it, they will take away a clear understanding of risk management systems, their limitations, the components necessary for their operation, and the regulations governing various industries that are susceptible to risk.
Students can expect their assignments and projects to relate to finance, math, and statistics. Reading assignments will be over complex financial and managerial topics. A project for this degree type might, for instance, include using newly learned risk assessment software to complete risk analyses; and using those analyses to then develop action plans to reduce or resolve the risks. Many risk management master's programs require the completion of a capstone project and/or an internship. A capstone project might be similar to the project previously described, or over any number of risk related subjects. Capstone projects usually also require a research paper. An internship is another common course students take, allowing them to experience their future career under the supervision of an experienced professional.
Building a Career
Furnishing financial and practical risk assessment skills and knowledge, master's recipients will be fully prepared for their careers in the financial and managerial fields. Often, they become personal financial advisors; the minimum requirement for such a career is a bachelor's degree, though the U.S. Bureau of Labor Statistics (BLS) reports that those with master's degrees may have improved chances for advancing in their careers. Financial advisors enable their clients to meet their financial goals by providing them with educated investment and risk advice; they help their clients to invest smartly in ways that match their financial needs and abilities. According to BLS reports, personal financial advisors annually make $66,580; this salary in an occupation that's employment is predicted to increase by 32% from 2010-2020 makes it a viable option for many M.S. and MBA graduates.
A second career path for graduates is in the insurance industry as senior underwriters. This position is an upper-level analyst job, usually reserved for those with experience, certification, and an advanced education. Underwriters review requests for insurance, assess an individual's or a company's risk,
and then determine appropriate policies and terms for their clients. The BLS maintains that insurance underwriters make an average of $59,290 per year; however, those with advanced degrees can make more. PayScale.com states that senior underwriters can make $48,424 to $102,332 annually. In contrast with financial advisors, this occupation's employment is expected to drop by 6% in the near future, according to BLS projections. Keep in mind, though, that your job prospects and salary may vary, depending on your level of experience and employer.
Other Online Business Programs