Best Online Master's Degrees in:

Quality Management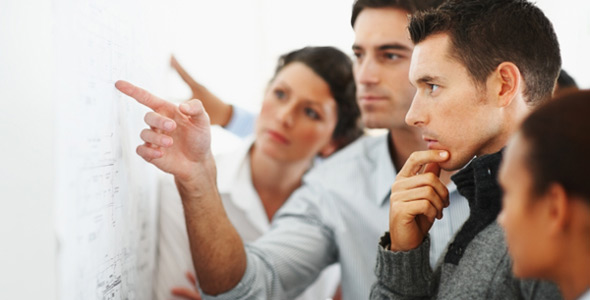 Editor's Picks: Online Schools for Quality Management
Value
The best online master's degree in quality management for value is Florida Institute of Technology. Commonly known as Florida Tech, this private four-year school in Melbourne was selected by U.S. News & World Report for their honor roll of the top online graduate business programs. In addition to well-respected online programs, the school also offers generous financial aid packages to assist students and their families in paying for their education. According to PayScale.com's Return on Investment Rankings, graduates can expect an average ROI of 7.3%. This increased to an ROI of 9.0% when financial aid was considered.
Featured Online Programs
Flexibility
Florida Institute of Technology also won top marks as the best online master's degree in quality management for flexibility. Selected for U.S. News & World Report's top online business programs honor roll, Florida Tech also ranked among the top 20 schools for their student services and technology. They offer students access to their online learning platform via desktop computer as well as mobile devices. This flexibility to access course work from any location and at any time possible is indispensable for working adults trying to balance their personal and professional responsibilities.
Career Support
The University of Alabama's Division of Student Affairs has a dedicated career center ready to help both on-campus and online students. Students and alumni have access to a number of valuable services such as mock interviews, cover letter and resume editing, job search assistance, major advising, and career action planning. Online students able to travel to campus can also take advantage of career fairs, presentations, and other recruiting events. However, a number of electronic job postings and career resources are also available. Given these resources and their flexibility with online students, the University of Alabama wins the award for best online master's degree in quality management for career support.
Financial Support
Florida Institute of Technology was placed at the top of the list for the best online master's degree in quality management for financial support. According to the National Center for Education Statistics, 97% of Florida Tech students received some form of financial assistance. In addition, all of the students who received aid were awarded some grants or scholarships. Approximately two thirds of students took out loans to help finance their education, mostly in the form of federal loans. The school also had a low loan default rate, at 5%.
Student Engagement
The best online master's degree in quality management for student engagement is Eastern Michigan University. This public four-year institution is located in Ypsilanti, just outside of Ann Arbor. The school was ranked among the top 100 regional universities in the Midwest by U.S. News & World Report. In addition, the graduate online business programs at EMU ranked 41st for student engagement and accreditation. Strong academic advising services, a state-of-the-art virtual learning platform, and faculty members with the skills and experience necessary to foster intellectual growth among their online students all contribute to Eastern Michigan University's placement at the top of this category.
Library and Research Support
University of Alabama offers an impressive selection of electronic journals, articles, databases, and research resources. Students also have access to online media materials and the school's Ask-A-Librarian service, which provides an easy outlet to contact subject specialists with research questions. There is even the option to text questions to library staff. U.S. News & World Report ranked the University of Alabama's online graduate programs in business among the top 75 schools for student services and technology. For these reasons, the University of Alabama was selected as the best online master's degree in quality management for library and research support.
Learning Support
Florida Institute of Technology was chosen as the best online master's degree in quality management for learning support. The school was ranked 16th for student services and technology for their graduate level online business programs, including quality management, by U.S. News & World Report. Online students have access to a number of services to help them succeed in their studies and careers. These include Smarthinking online tutoring, disability support services, major and career advising, and military and veteran support. These all contribute to Florida Tech's placement at the top of our list for learning support.
Faculty Credentials
The award for best online master's degree in quality management for faculty credentials goes to Florida Institute of Technology. U.S. News & World Report recognized the school as 23rd for faculty credentials and training in their ranking of online graduate business degree programs. Instructors for Florida Tech's programs in this area have an average of 3 years of teaching experience on an online platform. The school also values real-world experience, selecting faculty who can provide both strong theoretical and practical instruction to students interested in a career in quality management.
Alumni Engagement
The University of Alabama's Alumni Association has approximately 30,000 members. The organization is self-governed and open to alumni, current students, parents, friends, and Crimson Tide fans. Member benefits include alumni publications, discounts on hotels, rental cars, and at area merchants. Networking opportunities, seminars, and chapter events are also open to members to help them stay connected and advance their careers. With all this in mind, the University of Alabama was selected as the best online master's degree in quality management for alumni engagement.
Prior Learning Options
The best online master's degree in quality management for prior learning options is Upper Iowa University. At UIU, transfer students can bring in applicable transfer credits from other regionally accredited institutions and schools with specialty accreditations than have been approved by the administration. In addition, after completing at least one course at Upper Iowa, students may be able to apply for transfer credit for their experience by completing an experiential learning portfolio. This allows working professionals with a wealth of field experience to accelerate their degree track and apply their real-world knowledge to the program.
Explore a Master's Degree in Quality Management
A master's degree in quality management, often called a Master of Business Administration (MBA) with a concentration in project quality management, prepares professionals for careers in the quality management and analysis fields. In their studies, students will learn important managerial and technical project management techniques. Most programs also equip students with the knowledge to receive their certificates as Certified Quality Auditors (COA), Certified Quality Engineers (CQE), and Certified Quality Managers (CQM).
Full-time students usually complete their MBA in Quality Management in two to three years. Being especially true of online degrees, however, each student's situation is different. Many programs allow students with bachelor's work in various business topics or with previous master's work to waive or substitute courses, which can allow them to graduate in two years or less depending on the circumstances. Part-time students, on the other hand, will find that earning a master's degree takes longer than two or three years.
Class Curriculum
Students will usually begin their studies by taking business-related courses, though some may find certain courses waived if they have an educational background in business. These courses will consist of finance, ethics, accounting, marketing, and management. After students complete any foundational courses, they will begin their master's degree core curriculum, with courses concentrating on applying basic leadership and operations skills to real work situations. These courses may consist of:
Statistical Process Control. Statistics are an imperative tool when attempting to control and render the highest quality of products. As such, students will learn to gather and interpret statistics to improve and verify production quality. They will also be taught to use programs that enable them to generate these statistics.
Organizational Behavior and Leadership. In this course, students learn the behavioral psychology inherent in organizations. They will come to understand the interpersonal and individual relationships involved in these organizations, and how to use this understanding to be an effective and efficient project leader.
Operations Management. In an operations management course, students are introduced to techniques for conducting operations analyses in order to ensure the efficient flow of operations. This consists of students learning how to plan, track the progress of, and implement operations management processes.
Students will be asked to complete reading assignments, as well as projects demonstrating the application of learned software and operations management techniques as well as statistical research and analysis. Some degree plans require students to participate in discussions over study material with their peers online. Program requirements differ among schools; two different types of programs are typically available, one that emphasizes research and another than emphasizes course work only. Some schools give students the chance to choose between the two and others do not.
Programs that emphasize course work will require students to take a comprehensive final exam in addition to completing additional courses within their quality management concentration. Programs in which a thesis or capstone are required, however, involve substituting concentration courses with courses in which students learn research methods and actually begin conducting research for their thesis or capstone. A thesis is a research topic investigated by students; upon completion, they may choose to publish their research findings. A capstone, on the other hand, is a research project and article-length paper that entails a narrower research topic than that of a thesis.
Building a Career
In the pursuit of their degree, students should develop the necessary leadership, technical, and analysis skills for careers in quality management. One possible career choice is that of an industrial production manager. These managers monitor the daily operations and resources in industrial manufacturing plants in an effort to ensure that production goals are met. The U.S. Bureau of Labor Statistics (BLS) reported that industrial production managers had a median yearly salary of $87,160. The BLS also reported that employment for this vocation is expected to grow 9% in the next eight years.
Quality engineering is a second field sought by MBA recipients. Quality engineering is a specialization of industrial engineering, and engineers' work centers on analyzing and developing plans for increasing productivity, in addition to solving production-related problems; they also manage project technicians and engineers. In order to become a quality engineer, one must pass an exam that qualifies him or her as a Certified Quality Engineer (CQE). The BLS reports industrial engineering salaries at $76,100 per year and PayScale.com notes that specialized quality engineers can earn as much as $91,136. However, reported salaries must be understood as estimates because they are contingent on a series of conditions, such as experience level and educational background, and they cannot be guaranteed. The BLS also reports that industrial engineering employment is expected to increase by 6% in coming years.
A third career path taken by MBA graduates is in management analysis. Management analysts are either employed directly by organizations, or are hired contractually as consultants. Their role is to observe the operations of a business, identify and analyze areas that need improvement, and then develop a plan of action to increase productivity and efficiency. The BLS reported that management analysts' salaries were $78,160 annually; it also projected a 22% increase in employment over the next eight years, making it the fastest growing occupation out of the three mentioned here.
Other Online Business Programs