Best Online Master's Degrees in:

Accounting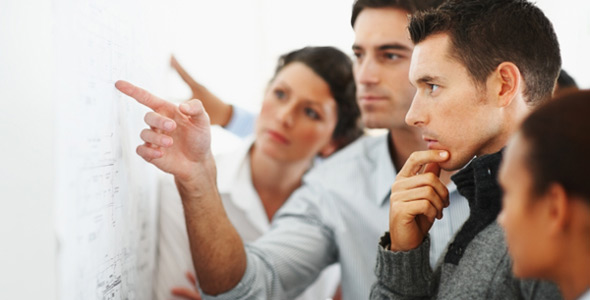 Editor's Picks: Online Schools for Accounting
Value
With a >return on investment (ROI) of 9.9%, Rutgers University took home the top ranking in value of schools that offer online master's degrees in accounting. Rutgers University offers a Master of Accountancy in Governmental Accounting degree and it extends the already greatly reduced in-state tuition to out-of-state residents who work for government or non-profit organizations. With financial aid, Rutgers University's ROI increases to 10.7%, according to Payscales.com.
Flexibility
Capella University received an A College Prowler's college rankings for academic flexibility. A college receives a high grade in academic flexibility when it makes its online programs flexible enough to work around a student's schedule. Both organizations determined Capella University's grade based on the school's class availability, ease of class registration and transferring credits, and the required investment of time. Since it performed well on both ranking lists, Capella University wins our award for academic flexibility.
Financial Support
Liberty University, one of the world's largest Christian universities, received top honors for financial support of schools that offer online master's degree programs in accounting. According to the National Center for Education Statistics, 97% of Liberty University's undergraduate students receive some kind of financial aid, so the odds are good that graduate students will receive aid as well. The university offers scholarship, grant, aid, and loan programs for its students, as well as flexible payment plans to make tuition easier to pay.
Technology/Tech Support
American Intercontinental University (AIU) is the winner of the best school for technology and technical support. The university ranked second in College Prowler's Best Tech Support rankings in part because of its innovative M.U.S.E. learning platform. M.U.S.E., or My Unique Student Experience, integrates a variety of learning styles into its online courses to suit a student's ideal way of learning. AIU also offers support services akin to what students may find at a traditional college campus through its learning center.
Student Engagement/Activities
Quinnipiac University in Hamden, Conn., won top honors for its online program's student engagement. The university, which offers an online Master of Business Administration with a concentration in Accounting, placed No. 6 in the U.S. News & World Report's ranking list of student engagement and accreditation for online graduate business programs. Instructors respond to a student's inquiries within 48 hours, and its online system facilitates communication between classmates with their professor and their peers.
Disability Support
The University of Phoenix takes our award for best disability support services because of their services that help meet students' needs. Students can apply for accommodations through the University of Phoenix's office, where they'll work with an advisor to determine eligibility. The university's website includes an extensive frequently asked questions (FAQ) section, which addresses queries about the accommodation process, eligibility, finances, faculty, changes to schedule, testing of learning disabilities, and more.
Learning Support
Quinnipiac University also takes top honors for its online school's student services and technology. The school ranked No. 4 in U.S. News & World Report's list of student services and technology in online graduate business programs. According to the U.S. News, Quinnipiac University's online business programs feature a dedicated business school career center, live tutoring, a smartphone application, and live streaming video.
Faculty Credentials
Jones International University in Centennial, Colo., wins our award for faculty credentials and qualifications. The university, which offers an online MBA in Accounting, ranked No. 3 in the U.S. News & World Report's ranking list of faculty credentials and training for online graduate business programs. According to the U.S. News, 80% of Jones International University's faculty has at least two years of online teaching experience. The university provides online instruction training to its teachers, which it also finances.
Faculty Accessibility
AIU finished top among schools that offer online accounting master's degrees programs in this category as well. It ranked No. 4 in College Prowler's Most Accessible Professors list because its professors hold regular office hours and are open and available to questions.
Prior Learning Options
University of Phoenix earned our top honors for prior learning options because of the different programs it has in place for students to earn academic credit on previous experience. The University of Phoenix gives qualified students who have professional training from seminars and courses provided by employers academic credit. Other types of experience may also be eligible if students write an experiential learning essay.
New Online Student Orientation
Southern New Hampshire University's (SNHU) online orientation program for new students won our new student orientation award. Regardless of the degree program the student enrolls in, they are required to complete a new student orientation course that reviews the school's academic policies, withdrawal policies, academic advising and student support services, and best practices for online learning.
Explore a Master's Degree in Accounting
On the graduate level, an accounting program will give you an in-depth look at the standards and principles of accounting and allow you to develop the skill set needed to accurately apply them in the field. Earning a master's degree in accounting is a viable option for those who want to advance in their accounting careers. It can also help you become a more attractive job candidate, as some employers may prefer to hire accountants who have a graduate degree.
There are several types of graduate accounting degrees available including, but not limited to, a Master of Science in Accounting or a Master of Accountancy. These types of programs generally require students to complete anywhere from 30 to 40 credit hours and can take up to two years to complete. However, completion time can vary depending on the school's individual program, number of prior credits, enrollment status, and more.
Class Curriculum
While enrolled in a master's degree program for accounting, students can expect to take courses in auditing, financial accounting, accounting information systems, and business law. Some accounting programs may have specialization options, allowing students to take additional courses in concentration areas such as auditing, taxation, or forensic accounting. Core courses likely to be a part of a graduate accounting program include:
Financial Reporting. In this course, students will learn how to prepare financial statements, analyze financial accounting information, and identify factors that affect accounting decisions. Topics include Generally Accepted Accounting Principles (GAAP), valuation of assets, and measurement of income.
Financial Accounting. Involves the study of external financial reports and the processes involved in preparing them. A range of topics are discussed in this course including accounting for business combinations, consolidated financial reporting, international accounting, accounting by fiduciaries, and accounting for partnerships.
Accounting Information Systems. Students will learn about accounting information systems and their use in data collection, accounting records, and information analysis. Commonly, case studies and computer applications are used to teach students how to correctly use these types of systems.
Students in accounting programs should be prepared to regularly take exams on material covered in their classes. In addition to studying, students will likely spend time examining case studies and completing specific project assignments, such as group-based projects for papers and presentations. They may also have to participate in management simulations for accounting professionals or research assistantships.
Building a Career
A graduate degree in accounting can qualify you for a career as an accounting professional in a variety of work environments. Accounting is an essential part of almost every type of organization, so graduates can expect a range of opportunities. Accountants also have the option to go into specific areas of accounting, like internal auditing, management accounting, information systems, personal finance, and public accounting. Not only does a graduate accounting program help students expand their knowledge and professional competence, but it can also help prepare them for professional certifications in accounting such as Certified Public Accountant, Certified Management Accountant, or Certified Internal Auditor.
For example, those who want to become Certified Public Accountants may want to enroll in a master's accounting program to meet the education requirements to sit for the national certification exam. According to the Bureau of Labor Statistics, 46 states require CPA candidates to complete 150 semester hours of college coursework, 30 hours more than the typical four-year bachelor's degree. Therefore, even though a master's degree is not required to take the exam, earning one can prove beneficial as it helps satisfy the hour requirements.
According to the BLS, accountants and auditors can expect a 16% increase in employment from 2010 to 2020. The median annual salary for accountants and auditors was $61,690. While these statistics are positive, you should always keep in mind that job projections are not guarantees of employment as job availability and salary varies depending on your experience, location, education level, and the economy.
Other Online Business Programs