Best Online Master's Degrees in:

Human Resource Development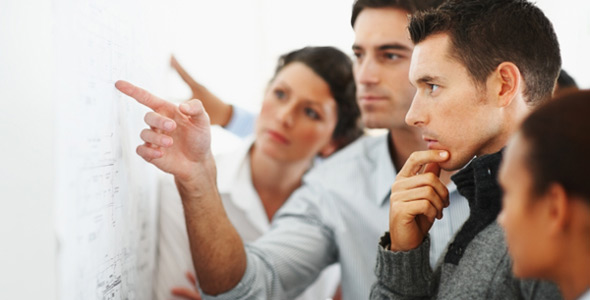 Explore a Master's Degree in Human Resource Development
Master's degrees in human resources are designed to build on an individual's existing bachelor's degree in human resources, or for a professional in the field looking to gain experience in a particular area of human resources. The degree can also be useful to someone looking for a career as a human resources manager. Online master's degrees in human resource development are designed to specifically prepare individuals for the development and training of a company's existing employees for long term employment. This includes implementation of strategic organizational change for increased quality, productivity, and employee satisfaction. Students will also learn about structuring employee benefits packages, using data and statistics to make sound business decisions, and how to use technology to manage finances and budgetary resources.
Before pursuing a master's in the subject, students must have completed a bachelor's degree in human resources or a related subject. In some instances, students can enroll in bachelor's degree program that is combined with a master's degree program. These programs typically take five to six years to complete, while a master's degree program on its own will take two to three years to complete. Factors that can impact the duration of the program include the specific school and program, and the amount of courses an individual can handle at a given time.
Class Curriculum
At the core level, master's level students can expect courses in advanced statistics, accounting and financial management, employment law, and organizational management. Most programs will offer courses on a very specific subject such as Impacts of Human Resource Development Management. Some common core-level courses offered are:
Organizational Change Management. In this course, students learn essential approaches for managing both planned and unplanned organizational changes within a company. Students practice diagnostic techniques for identifying organizational problems and examine how strategic organizational change can achieve increased quality, productivity, and employee satisfaction.
Organizational Learning and Strategy. This course helps students prepare for human resource management by teaching students to align learning functions for employees with strategic organizational goals. This course also helps students understand how organizations are designed and structured, and uses a research-based model to help students understand how to build an organizational culture that supports employee development.
Global Human Resource Development. In this course, students explore the scope of human resource development programs in multinational corporate settings. Students focus on designing and implementing development systems that help employees grow within a company's structure.
Daily homework for a human resource development degree program is reading- and writing-intensive. Students regularly use readings, written assignments, case studies, and group activities to learn about the national and international trends and initiatives regarding human resource development. Some programs will require a final capstone project where students must work towards the completion of a portfolio on a topic related to human resource development, and make a presentation based on their research. Lastly, some human resource development programs require an internship in a work setting.
Building a Career
Many graduates of master's degree programs in human resource development seek positions as human resource managers. In some cases, management positions in the field may require the individual to have a certain amount of work experience in addition to a degree. In some cases, human resource managers plan, direct, and coordinate all administrative functions of a company or organization. Employees will usually be called upon to consult with higher-level managers and executives on personnel and benefits planning, serve as the contact between an organization's top management and its employees, and recruit, interview, and hire new staff.
According the U.S. Bureau of Labor Statistics, the median annual income for human resource managers was $99,180. The BLS also reported that salaries for other human resources professionals working in the field were $52,690. Salaries can vary greatly based on the location of the job, the current economy, and amount of experience.
Other Online Business Programs