Best Online Master's Degrees in:

Marketing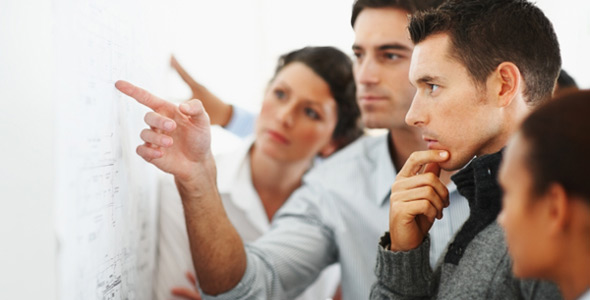 Editor's Picks: Online Schools for Marketing
Flexibility

Florida Institute of Technology wins best online master's degree program in marketing for flexibility. Florida Institute of Technology provides live tutoring for its online marketing students, and a smartphone app to access class resources from anywhere. Students may choose from 8-week or 15-week units, and students are also allowed the freedom to complete assignments at different times throughout the week, depending on the student's schedule.
Career Support
Boston University wins the best online master's degree program in marketing for a career support. Boston University's Center for Career Development offers resources for internship opportunities, resume and cover letter workshops, and interviewing practice. The career development center also provides tools to aid in a job search, including the BU Career Link, job search guides, and a list of career search sites.
Technology Support
Florida Institute of Technology wins best technology support in an online master's degree in marketing program. Florida Institute of Technology provides a smartphone app for easy access to video resources and e-mail, live streaming video and audio, and recorded audio and video courses, and compatibility for Apple, PC, Unix, and Linux. Florida Institute of Technology also provides online labs, simulations, and bulletin boards for its classes.
Library and Research Support
We award Boston University with the best library and research support in an online marketing master's degree program. Boston University's library provides online handbooks, databases, library tutorials, archives, and other databases for all Boston University students. Boston University also provides a catalog of online books and journals available for search within its databases.
Learning Support
Colorado Technical University wins best learning support in an online marketing master's degree program. Colorado Technical University's My Unique Student Experience (M.U.S.E.) allows students to choose the way they want to learn through video, audio, and textual support provided in a multi-media learning dashboard. Students have 24/7 access to lessons, assignments, and practice exams, may participate in interactive discussion groups, and design their course schedule to fit their requirements.
Faculty Credentials
U.S. News & World Report ranks Northcentral University No. 5 for faculty credentials and training. 77% of Northcentral's faculty have at least two years of online teaching experience. Northcentral University requires its instructors to undergo online instruction training to teach, which is financially provided for by the school. This means the school's faculty is all familiar with the best online teaching practices.
Prior Learning Options
Colorado Technical University reviews previous academic, military, and civilian work experience for credit when a student enrolls in its military education online program. Prior Learning Assessment also allows students to test out of course work. Colorado Technical University also provides clubs, activities, and events like open house and orientation for students enrolled in the online military education program. Colorado Technical University wins best prior learning options for an online master's degree program in marketing.
New Online Student Orientation

Southern New Hampshire State University wins best new student orientation in an online marketing master's degree program. Southern New Hampshire Universitiy's online orientation course prepares students through tutorials covering academic policies, student support, and advising, as well as FAQs, course demonstrations and Blackboard tutorials. Students may use these resources to ensure all technical requirements are met before the start of courses.
Explore a Master's Degree in Marketing
Marketing is the action of promoting and selling products or services to consumers and clients. Effective marketers identify marketing opportunities and problems, tailoring a message to appeal to a specific group of consumers, and monitor the performance of their campaigns. Students who want to work as a marketing manager within a business organization should consider earning an online master's degree in marketing. Some online master's degrees in marketing programs are 36-credit-hour curriculums that take 18 months to complete, although the length of program and time of completion may change depending on the institution.
Class Curriculum
A master's degree program in marketing gives students more training in marketing principles and strategies. As such, they may enroll in courses that explore consumer behavior, marketing research, ethical and legal issues in marketing, quantitative analysis for decision making, and more. Students may also need to enroll in marketing elective courses that provide a broader understanding of management principles. Three examples of marketing-specific courses are:
Multinational Marketing Strategies. Technological advances have changed how businesses around the world operate. Now, more than ever before, businesses can sell their products or services to new consumer markets in other countries. However, using the same marketing strategies that are used domestically may not work. This issue is the focus of most multinational marketing strategies classes, which train students to identify and develop relationships with international markets.
Consumer Behavior. This course gives students insight into the psychological, sociological, and economic factors that affect a consumer's behavior. In this class, students learn how to design effective marketing strategies by using their knowledge of these factors.
Ethical and Legal Issues in Marketing. This course provides instruction in marketing research, product liability, selling, international marketing, and socially controversial products. The goal of the course is to help students develop their own ethical framework for making marketing decisions while also being aware of U.S. marketing laws.
Students of an online master's degree program in marketing will typically have to complete reading assignments, essays, class discussions, and exams. When the student graduates from the program, they should be proficient in how to use language to persuade, create presentations that resonate with an audience, build effective marketing campaigns, and use data to adapt a message to an audience.
Building a Career
Graduates of a master's degree program in marketing may be eligible to work as marketing managers, who are responsible for planning, directing, or coordinating marketing policies and programs. Marketing managers also develop pricing strategies to maximize their organization's profits or market share while also ensuring customer satisfaction. They may also negotiate advertising contracts, initiate market research studies, and meet with clients to provide marketing or technical advice.
According to the U.S. Bureau of Labor Statistics (BLS), marketing managers earn a mean annual wage of $126,190 and employment in the field is expected to grow 14% between 2010 and 2020. However, these statistics are no guarantee of salary or employment, which are affected by the location and size of the company, the state of the economy, and other factors.
Other Online Business Programs