Best Online Master's Degrees in:

Business Analysis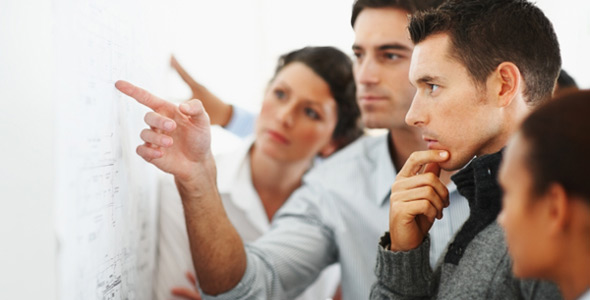 Explore a Master's Degree in Business Analysis
Figuring out how to raise funds for a start-up, allocate scarce resources, or implement different financial strategies – these are the concerns of business analysis. Business analysis essentially comes down to improving efficiency in running an organization, whether that's a corporate entity, government agency, or non-profit organization. Those involved in business analysis are interested in finding the solutions to make an organization cut down on costs while still providing the same level of service.
Business analysis tends to demand a combination of both business and information technology skills. As such, students with backgrounds in business, computer science, or IT may be drawn to the field. A business background is not a necessity for some programs, though others may require experience in information technology. A business analysis credential can be acquired through a certification program, although one-year master's degree programs are available that provide business and management skills. Exact program length will vary by the university, whether it's part-time or full-time, and the student's experience.
Class Curriculum
Exact classes vary by school. Some programs are geared towards students with a background in business, while others welcome students of all majors. Other business analysis programs also are specializations within information technology master's programs, so as a result will have more of an IT focus. In general, students can expect to receive a foundation in accounting, economics, marketing, finance, and management, as well as learn the most current business and technology trends. They may also develop their communication and reasoning skills as applied to a business environment. Here's a look at some of the types of classes that may be required in a master's degree in business analysis:
Managing People and Technology. A course like this would train students in the role and functions of a manager by offering a foundation in management theory, processes, and behavior. Students may look at case studies to practice applying solutions to real-life problems. Topics may include managing with ethics and social responsibility, organizational culture and design, group dynamics, goal-setting, and conflict negotiation.
Financial Management. This course covers financial and microeconomics theory as it relates to managerial decision-making. Topics may include operational and capital budgeting, cost and demand analysis, forecasting, pricing, market structure, and regulation.
Business Research Methods.This course provides a student with an understanding of the methods and technologies used in managerial decision-making. Topics may include qualitative research, survey and experimental designs, and data analysis using statistical software.
Students can expect to learn how to use various data analysis software through assignments. Projects may also entail working individually or in groups. Projects and presentations may involve applying the business methods and analysis they learned to a real-world situation. In addition to their courses, programs may also include seminars on career development, covering such topics as career self-assessment, resume and cover letter writing, interviewing skills, network, and transitioning into the corporate world.
Building a Career
A master's degree in business analysis most directly trains a student to work as a business analyst, or BA, also known as a management analyst. Business analysts figure out ways an organization can improve its efficiency to become more profitable. They tend to fall under three types: generalist, specialist, and hybrid.
A generalist is competent across all areas of business analysis, uses a variety of techniques, and is found at various levels within an organization. A specialist has advanced knowledge and expertise in a specific area, uses a more focused set of techniques to solve problems, and may be at any level of experience. A hybrid BA possesses knowledge across several areas. Often, they work for consulting organizations, become partners at one, or go on to form their own. Additional titles that may fall under the "business analyst" umbrella include business systems analyst, systems analyst, requirements engineer, process analyst, product manager, enterprise analyst, business architect, management consultant, business intelligence analyst, and data scientist.
According to the U.S. Bureau of Labor Statistics (BLS), employment of management analysts is expected to grow by 22% from 2010 to 2020. This growth is expected as more organizations seek ways to improve efficiency and cut costs. Growth is expected to be particularly strong in smaller consulting companies that specialize in specific industries, as well as in the public sector, such as federal, state, and local government agencies. The median annual wage of management analysts was $78,160, according to the BLS. Keep in mind that both salary and job prospects are largely dependent on your experience, location, and the state of the economy.
Other Online Business Programs