Best Online Master's Degrees in:

Human Resource Management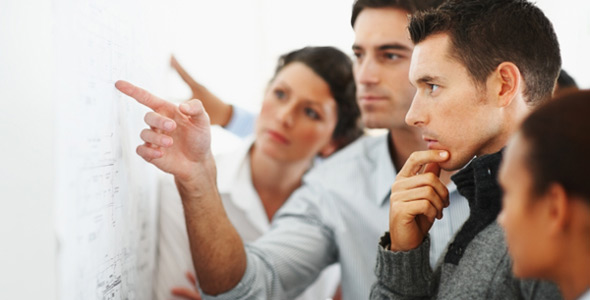 Editor's Picks: Online Schools for Human Resources Management
Value
The best online master's degree in human resource management for value is the Catholic University of America, which offers an online Master's of the Arts in Human Resource Management. CUA ranked among PayScale.com's top ROI Rankings, with an annual return on investment (ROI) of 7.0%, and an annual ROI of 8.1% for students receiving financial aid. U.S. News and World Report ranked Catholic University of America among the top national universities in the U.S., and also notes that the average freshman retention rate, which is widely recognized as an indicator of student satisfaction, is 80.8%.
Flexibility
Capella University's online Master of Science in Human Resource Management wins the award for best flexibility. By making so many programs and degrees available in a completely online format, Capella University has forged the way for flexible and affordable online education for the masses, and is truly considered a pioneer in perfecting the online learning system. Students gave Capella 959 out of 960, a near-perfect score, for academic flexibility on CollegeProwler.com. To support the university's emphasis on a flexible curriculum, Capella.edu offers an organizational chart of the registration process, along with sample schedules and courses, to make the process simple and easy. Capella highlights academic flexibility, and also promises that students will be "engaged, inspired, and challenged," as well.
Technology Support
The award for best online master's degree in human resource management for technology support is Capella University. Because Capella offers degrees and course work exclusively in an online learning environment, it makes sense that this university would understand the importance of having a highly capable tech support team available around the clock for online students. Capella University tech support staff can be reached 24 hours a day by phone, email, or even live chat, and Capella University Support Services offers prospective students the unique opportunity to take a free, one-week "mini course," in order to familiarize themselves with the virtual classroom. CollegeProwler.com gave Capella an "A" rating for tech support, among top national universities.
Student Engagement
The Catholic University of America wins the award for best online master's degree in human resource management for student engagement. Through the Office of Student Activities at UTEP, students can find activities and leadership opportunities, student organizations and clubs, cultural awareness activities and organizations, and orientation activities. Here, students are encouraged to contribute suggestions to improve the web page and/or student engagement, and can learn how to get involved with the Student Association General Assembly, or the Graduate Student Association. CUA also features an involvement survey for students, as well as various newsletters, and links to Twitter and Facebook pages, so students can stay connected and keep track of the latest news and updates.
Disability Support
The Catholic University of America wins the award for best online master's degree in human resource management for disability support. CUA's Disability Support Services department can help answer questions concerning accommodations and services available, university-wide: the staff is available to provide information about and give referrals to admissions, registration, financial aid, and other services within the university. For students with disabilities, DSS can assist with assessing students' needs in such areas as housing accommodations, attendants, interpreters, readers, transportation, classroom and course accommodations, tutors, note-takers, and adaptive equipment. DSS also provides information about equal access in the classroom and on-campus, and considerations for students with temporary disabilities.
Library and Research Support
Saint Mary's University wins the award for best library and research support, for its online Master of Arts in Human Resource Management. At SMU's Twin Cities Library, students can search for articles, books and videos on the live database, reference online citation guides, see an orientation video, and even ask a librarian a question, by phone, email, live chat, or at the library's reference desk. Here, students can also find help with the library's web applications, including the university's various inrtranet servers, and a live archives library database, and even use the mobile library website. And, the library provides the ability to stay in contact contact through its own pages on Twitter, Facebook, and Flickr.
Learning Support
The award for best online master's degree in human resource management for learning support goes to the Catholic University of America. At the Center for Academic Success, students can take advantage of the many academic support and personal development services that this university has to offer, including tutoring services, workshops series, assistance for exploratory students still deciding on their majors, and even special web-based academic resources geared specifically toward online learning. Students on CollegeProwler.com showed their appreciation by giving CUA a high score for "best academic advisors."
Faculty Credentials
The Catholic University of America wins the award for best online master's degree in human resource management for faculty credentials. As noted on CUA.edu, the school celebrates its well-rounded professors, promising that "faculty are dedicated to nurturing the whole person, preparing students for success in life." CUA also features a unique Faculty Experts team, particularly trained to share their expertise in their respective field with the media or partnering institutions, when necessary. And, this university's commitment to connecting expert faculty with appreciative students seems to be paying off: on CollegeProwler.com, students gave CUA a very high score for "smartest professors."
Faculty Accessibility
Saint Mary's University wins the award for best online master's degree in human resource management for faculty accessibility. Forbes.com lists Saint Mary's among its ranks of America's Best Colleges, noting a student to faculty ratio of only 12 to 1. And, on SMUMN.edu, Saint Mary's emphasizes the accessibility of its relatable faculty; of the 461 total faculty at SMU, most are working professionals who infuse career experience into their teaching. This focus on personal attention has not gone unnoticed: students on CollegeProwler.com gave SMU a very high score for "best student-faculty ratio."
Alumni Engagement
Capella University wins the award for best online master's degree in human resource management for alumni engagement. Capella's Alumni Association features resources like the alumni library, career services and development courses for graduates, online networking opportunities, regional events, and volunteer opportunities. As the Alumni Association's message to graduated students clearly states: "the journey to completing your Capella program may be over, but your connection with the learning community at Capella never ends." Students on CollegeProwler.com showed their appreciation by giving Capella a very high score for best alumni network.
Prior Learning Options
Capella University offers a multitude of innovative programs for students to make the most of their prior learning experience. On Capella.edu, students can find out how to assess and transfer credits they've already earned, from prior degrees and certifications, military service, and national testing, and they can also learn about the university's exclusive Bachelor's to Master's Discount, which allows for a special discount on tuition if undergrads complete their bachelor's degree and return to get their master's at Capella within two years. For all this, Capella University receives the award for best online master's degree for human resource management for prior learning options.
New Online Student Orientation
The Catholic University of America wins the award for best online master's degree in human resource management for its new online student orientation resources. Through CUA's Orientation Program, this university provides orientation services for all new students — first-year undergrads, transfer students, and online learners. Here, students can find everything they need to get acquainted with CUA's policies and procedures, including checklists, guidebooks, schedules, learning resources, academic support tools, school photos, and contact information, among many other services. And, all future students of CUA are encouraged to stay in touch via the university's Facebook and Twitter pages.
Explore a Master's Degree in Human Resource Management
Human resources management is the practice of managing a company or organization's workforce, hiring and training new employees, and making sure labor laws are being followed. An online human resources management master's degree allows students to get the educational credentials they need to advance their careers without the requirement of attending classes on campus. A typical human resources management master's degree program requires the successful completion of 45 credit hours of academic course work, although that may vary based on the college or university.
Class Curriculum
A human resources management master's degree curriculum seeks to prepare students to implement strategic staffing programs, assess and respond to an organization's goals, and facilitate employee productivity. Therefore, a student of the program may enroll in courses such as leadership and organizational behavior, marketing management, human resource planning, managing organizational change, and strategic staffing. Read on for a closer look at three human resources management courses:
Leadership and Organizational Behavior. This course covers inter- and intrapersonal dynamics and how they impact an organization's goals. This course also examines theories of motivation, group dynamics, leadership, authority, team building, and other aspects of organizational behavior.
Employment Law. This course examines federal and state laws that affect human resources operations, including wage and overtime payment, equal employment opportunity, restrictions on management's rights, and more. Students in this course learn how to apply these laws to the development of human resources programs as well as how to resolve workplace disputes and prevent litigation.
Strategic Staffing. The strategic staffing course teaches students how to strategically apply human resources principles to help an organization reach its goals. It examines short- and long-term human resource planning, hiring, and training.
Students of an online human resources management degree program may be required to complete reading assignments, response essays to show comprehension of the course material, research projects, and case studies. They are typically assessed by their performance on these assignments as well as quizzes and exams, which may account for a significant percentage of a student's overall grade in the course.
Building a Career
Graduates of a master's-level human resource management program may be qualified to work as a human resources manager at companies, businesses, and governmental and non-profit organizations. Human resource managers are responsible for planning, directing, and coordinating the administrative functions of an organization. They are also responsible for the recruiting and interviewing of new staff, and they function as a liaison between the company's employees and management.
According to the U.S. Bureau of Labor Statistics (BLS), human resource managers earned a median annual salary of $99,180. The BLS expects employment of human resource managers to increase 13% from 2010 to 2020 because the formation of new companies, or the expansion of existing ones, will drive demand for these professionals to administer programs. However, this is no guarantee of salary or employment opportunity, which is determined by employer, location, and the state of the economy.
Other Online Business Programs