Best Online Master's Degrees in:

Business Management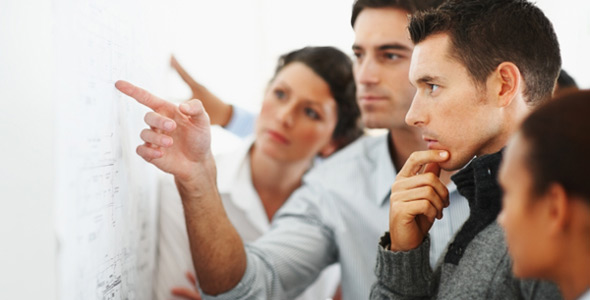 Editor's Picks: Online Schools for Business Management
Value
The University of Texas at Dallas received our best value award for schools that offer an online master's degree program in management or business management. The university's annual return on investment (ROI) — the amount a student pays for tuition versus what he or she receives in lifetime earnings — is 8.5%, according to PayScale.com. If financial aid is considered, the university's ROI increases to 10.4%.
Flexibility
Walden University won our award for flexibility. College Prowler gave the university an" A-" for academic flexibility, which demonstrates the degree to which a school accommodates a student's work schedule and daily life. Class availability, ease of transferring credits or registering for classes, and the amount of time required for course work were also factored into Walden University's grade.
Career Support
Colorado State University received our award for career support. The university's career center allows alumni to search for or post jobs and internships on CareerRAM, the institution's online career service center. Within the first year after they graduate, students can use the university's career services for free, and after the first year they can schedule one appointment with a career counselor per year at no cost.
Financial Support
Azusa Pacific University claimed our award for best financial support. According to the National Center of Education Statistics (NCES), 85% of the university's undergraduate students received some sort of financial aid. The university's financial aid office helps students identify and receive scholarships, grants, and student loans given by governmental and institutional organizations.
Technology Support
Troy University received our award for best technology support. U.S. News & World Report placed Troy University 12th in its ranking of student services and technology of the top online graduate business programs. Troy University offers its online students live tutoring, a smartphone application they can use to access course content, and live streaming video.
Student Engagement
The University of Texas at Dallas received our award for best student engagement. U.S. News placed the university 22nd in its ranking of student engagement and accreditation of the top online graduate business programs. Online students receive responses to their questions from professors within 36 hours and teachers set aside at least two hours of office time per week. The University of Texas at Dallas' school of business is also accredited by the Association to Advance Collegiate Schools of Business (AACSB).
Library/Research Support
Troy University also claimed our award for best library and research support. Online students can take advantage of the university's online course reserves and searchable databases that include e-journals, reports, encyclopedia entries, and historical documents. These databases are organized either alphabetically or by subject, such as business and public administration or education. Should a student need assistance, they can instant message a librarian 24 hours a day, seven days a week, or contact a librarian via email, or by phone during normal operating hours.
Faculty Accessibility and Involvement
Azusa Pacific University earned our award for faculty accessibility and involvement. The university received a "B+" in academics from College Prowler, which shows that professors are knowledgeable, open to communicating with students, and interested in how their learners are performing in class. College Prowler also considers class size and how engaging classes are when it determines a school's grade for academics.
Alumni Engagement
The University of Alabama won our award for alumni engagement. The university's alumni association, which has about 30,000 members, offers former students discounts on stays at select hotels, car rentals, and various other businesses, as well as the chance for a child or grandchild to receive the Alumni Heritage Scholarship or Alumni Scholar Award. Members also receive information on alumni events in their area, discounts at the university's bookstore, and access to auto, home, life, and medical insurance.
Explore a Master's Degree in Business Management
Graduate programs in business management will allow you to gain a foundation in areas vital to every type of business, including, but not limited to, organizational behavior, finance, strategic management, marketing, and leadership. Getting a master's degree in business management is a good choice if you want to develop the skills and abilities needed to create and sustain a successful business. There are several types of graduate programs in business management, such as a Master of Science in Management. In general, business management degree programs consist of around 30-40 credit hours, which can take up to two years to complete. Although, you should keep in mind that the amount of time it can take to complete a degree can vary considerably based on factors like individual program, previously earned credits, enrollment status, and more.
Class Curriculum
Students enrolled in this generalist graduate business program will take core business curriculum that consists of courses in finance, economics, accounting, marketing, professional communication, and operations and strategic management. Elective courses in areas vital to management such as human resources, entrepreneurship, international business, or consumer behavior might also be available.
Core courses likely to be a part of a graduate business management program include:
Organizational Behavior. In this course, students study the behavior of individuals, groups, and organizations. Students take an in-depth look at organizations, how they work, and the people who make them work. Specific topics may include teamwork, work roles, career issues, job enrichment, and employee participation.
Managerial Accounting. This class introduces accounting information to prospective managers. Students will study topics like management control systems, performance evaluation, the statement of cash flows, and financial statement analysis.
Professional Communication. Students learn the balance between descriptive information and organizational communications theories in relation to business and professional speaking. Communication theories are explored concerning interviewing, group work, and interpersonal relationships.
Graduate students in business management programs can expect to work in small groups where they will complete projects that require them to analyze and problem solve. These types of projects may involve examining case studies, papers, and presentations. To gain practical work experience, students may also participate in internships or other types of professional opportunities.
Building a Career
A graduate degree in business management will allow you to enter the management profession ready to take on the challenges that come with running an organization or department. These types of challenges include, but are not limited to, strategizing to meet organizational goals, coordinating operational activities, implementing organizational plans, and directing departments. Depending on interests and experience, these types of majors can qualify for positions of leadership in the areas of administrative services, human resources, finance, sales, and more. They may also be able to obtain top executive positions, once a considerable amount of work experience is achieved.
The U.S. Bureau of Labor Statistics reported annual median salaries for the following occupations: administrative services managers, $77,890; human resources managers, $99,180; financial managers, $103,910; and sales managers, $98,530. In addition, employment for managers in administrative services is projected to increase by 15%, human resources by 13%, financial by 9%, and sales by 12%, all before 2020. According to the BLS, those in higher positions as top executives, also known as Chief Executive Officers, had a median annual salary of $101,250, with employment projected to increase by 5% by 2020. Those interested in pursuing master's degrees in business management should keep in mind that even with an advanced degree, these types of projections are not guarantees of employment or salary. Job availability and salary varies depending on many factors including experience, location, education level, economic conditions, and more.
Other Online Business Programs