Best Online Master's Degrees in:

Real Estate Management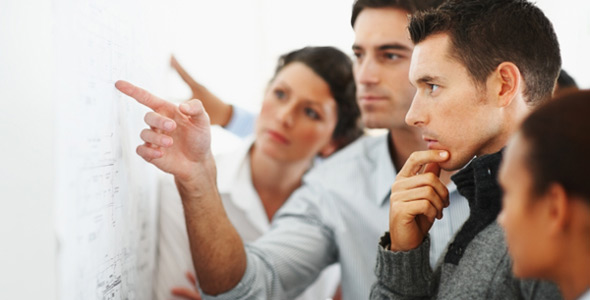 Editor's Picks: Online Schools for Real Estate
Value
Drexel University placed at the top of our list for the best online master's degree in real estate management for value. This four-year private institution was ranked among the top 100 best universities in the nation by U.S. News & World Report. A reputation for rigorous academics, strong financial aid assistance, and highly qualified faculty all help to increase the value of a Drexel degree. In fact, according to PayScale.com's Return on Investment Rankings, graduates can expect an ROI of 7.9%. This increases to 9.1% when financial aid is considered.
Flexibility
The top online master's degree in real estate management for flexibility is New England College. This small private school has offered online courses since 2005 and has a number of programs that cater to the scheduling needs of working adults. Students enrolled in NEC's online real estate management program will focus on one course at a time to optimize their learning experience. In addition, students can begin the program six times per year during the spring, summer, or fall, giving them more options to jumpstart their continued education as soon as possible.
Career Support
Ball State University earned the title of best online master's degree in real estate management for career support in our rankings. U.S. News & World Report ranked the school's online graduate-level business programs among the top 75 schools for their student services and technology. Online students can easily access a number of electronic resources and services through the Career Lab. These include career and major assessments, internship placement and job search assistance, resume writing and interview tips, career and employer research information, and electronic job listings. Online students able to make it on to campus also have access to career fairs, seminars, and recruiting events.
Financial Support
Drexel University was selected as the best online master's degree in real estate management for financial support. According to the National Center for Education Statistics, 98% of students at Drexel received financial aid. In addition, 97% of students received some aid in the form of grants and/or scholarships. As for loans statistics, 67% of students took out loans to help with the cost of their education, though these were mostly federal loans. However, a very low loan default rate of 1.9%, demonstrates this debt was manageable for the vast majority of graduates.
Student Engagement
Ball State University's online business programs, including real estate management, were also recognized by U.S. News & World Report for their strong reputation for student engagement. Ranked number 25 on the list, Ball State offers students instruction and support from a well-trained staff experienced in helping distance learners get the most out of their education. Instructors are easily accessible via the virtual learning platform, email, chat, or even phone during their weekly office hours. Tutoring and academic counseling services are also available to assist students.
Library and Research Support
The award for best online master's degree in real estate management goes to the University of Denver. Penrose Library provides both on-campus and online students with access to a number of electronic collections and databases including books, government documents, journals, scholarly publications, and other media. Students can also access research guides or ask research questions online. These queries will typically be answered within 24 hours. Online students able to travel to campus can set up a research center or archive appointment as well.
Learning Support
Ball State University earned the top spot in our rankings for the best online master's degree in real estate management for learning support. The school was recognized by U.S. News & World Report as one of the top 75 schools in student services and technology for their online graduate business programs, including real estate management. Tutoring, live streaming video services, and access to the virtual classroom from mobile devices are just a few of the benefits students at Ball State can take advantage of during their time in the program.
Faculty Credentials
The University of Denver was selected as the best online master's degree in real estate management for faculty credentials. A highly-respected private institution, the school was ranked among the top 100 universities in the country by U.S. News & World Report. The school has offered online programs since 2000 and distance learning instructors have an average of seven years of experience in the virtual environment. In addition, students enrolled in the online real estate management program will learn from experienced professionals in the field who can provide both practical and theoretical instruction.
Alumni Engagement
Graduates of Drexel University's online programs will receive the same highly-respected degree as their on-campus counterparts. In addition, they will join Drexel's vast alumni network. Benefits of membership include discounts, continuing education opportunities, Drexel conference services, online directories and networking tools, and events. Alumni also maintain access to the school's career services department, which provides seminars, career counseling, workshops, and online resources in a range of subjects. With this in mind, Drexel University was awarded the title of best online master's degree in real estate management for alumni engagement.
Explore a Master's Degree in Real Estate
Real estate management graduate programs will educate you on all the phases involved in real estate — initiating a sale, negotiating prices, financing a purchase, and closing the transaction. If you are serious about real estate and desire to establish yourself in the field, this advanced degree program can help you gain the necessary knowledge to close the deal. It will also equip you with the skills necessary to strategically manage various types of real estate, including residential and commercial.
Online master's degree in real estate management programs generally require students to complete anywhere from around 30-40 credit hours and can require up to two years of study. However, one should keep in mind that this can vary depending on a variety of factors, such as individual school programs, previous education, and full-time or part-time enrollment status.
Class Curriculum
While enrolled in a master's real estate management program, students learn about the decisions involved in asset management, principles of corporate and institutional real estate, and portfolio management in regional, national, and international contexts. Courses typically address topics such as corporate finance, development processes, valuation and feasibility analysis, commercial lease analysis, and negotiation and dispute resolution. Courses commonly required in a real estate management program include:
Strategic Real Estate Management. In this course, students will study how management is used to increase the value of real estate assets. They will cover topics like tenant mixes, repositioning strategies, capital expenditures, budget reporting, cost control, operations strategies, and financing and refinancing techniques.
Real Estate Capital Markets. After taking this course, students will understand commercial real estate debt and equity capital and the vehicles used to deliver it to the property markets. In doing so, they will explore the four quadrants of capital — private debt, public debt, private equity, and public equity. Other topics covered include equity REITs' performance and valuation metrics, and the pricing and structure of CMBS and CRE CDO.
Real Estate Finance. Students learn about the debt and equity financing of real estate, including commercial and residential real estate, legal instruments used in mortgage underwriting and lending, and the sources of public and private debt and equity capital. They will also learn about topics like the valuation of property, income property cash flows, and investment returns measurement.
Graduate programs in real estate management typically require students to complete assignments that help them develop the analytical and planning skills to be successful in the industry. Students will likely be required to complete practical application projects regarding areas of management like accounting, taxation, legal practices, and developmental processes. For example, toward the end of the program, students may have to complete a capstone project where they use their acquired knowledge to create a strategic real estate management plan.
Building a Career
Those who earn a master's degree in real estate management are qualified to pursue careers managing residential, commercial, and industrial properties. In these positions, they will oversee the day-to-day operations of income-producing properties and are responsible for financial statements, occupancy rates, development plans, contract negotiations, and more. Industries employing these types of mangers include the local government, offices of real estate agents and brokers, and lessors of real estate.
According to the U.S. Bureau of Labor Statistics, the employment of property, real estate, and community association managers is projected to grow by 6% by 2020, which is slower than average for all occupations. The median annual salary of these types of managers was $51,480, with the top 10% earning more than $111,320 and the lowest 10% earning less than $26,180. While earning an advanced degree may increase your employability and salary, it is important to note that BLS statistics are not guarantees of either, as job availability and salary varies depending on factors such as experience, location, education level, economic conditions, and more.
Other Online Business Programs