Best Online Master's Degrees in:

Leadership Development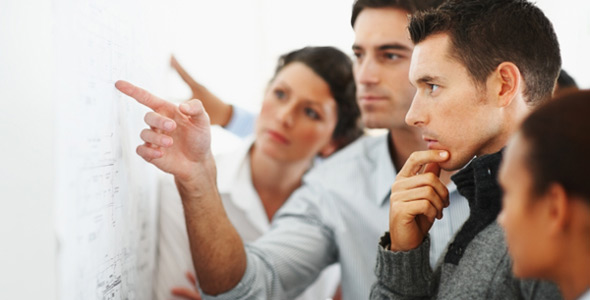 Explore a Master's Degree in Leadership Development
Corporate or organizational leaders looking to advance their careers may benefit from a master's degree in leadership development. This degree provides management training to enhance and develop leadership skills by examining current and emerging leadership theories, practices, skills, and tools that encourage and support creativity and change in the workplace environment. Topics covered may include talent development, sustainability, ethics and social responsibility, and virtual environments and new media, which could be beneficial for anyone from mangers who oversee the talent of an organization to professionals who serve in a human resources capacity to leaders who implement new initiatives and strategies within their company.
Leadership development programs will vary by exact content and focus, especially if they're industry-specific. The length of the program will also vary based on the school, whether it's part-time or full-time, and the applicant's educational background. Generally, master's degrees in leadership development can range from one to two years.
Class Curriculum
Students can expect to take courses that provide an understanding of different organizational and leadership practices, develop their own leadership and organizational skills, and how to develop organizational systems. They may also be able to take specialized courses in specific types of work environments, such as corporations, family businesses, or community-based organizations. Here are three types of courses in a leadership development program for an idea of what you can learn:
Organizational Dynamics. This course offers an introduction to leadership, reviewing fundamental leadership approaches and theories and examining the role of leaders in the 21st century. Students may also study leadership development approaches and the impact of effective and ineffective leadership within organizations.
Talent Management and Development. This course examines talent management and development in organizations. Students will study the major theories and approaches to selecting and developing employees, topics in strategic selection, employee and leadership development, assessment options for selection and development, workforce planning, and employee motivation and retention, and the use of technology to implement talent management, coach, and mentor.
Contemporary Issues in Leadership. In this course, students will use case studies and recent scholarly papers to explore pressing leadership issues concerning ethics, followership, and leadership assessment.
With each course, students can expect a mix of lectures, class discussion, and research papers to gain an understanding of the subject matter. Additionally, they may study and analyze the development of real-world businesses and create models of leadership based on theory and research findings. Lastly, they'll complete a capstone course in which they'll apply their knowledge and experience to develop a research project, such as proposing a vision for their work unit or organization.
Building a Career
Upon completing their leadership development program, graduates should have the skills to effectively lead people and teams. They'll have the tools to develop an organizational strategy and implement it, cultivate the talent of other people, provide coaching and mentoring, and inspire others around them. They'll also be able to engage in sound and ethical decision-making.
People who choose to earn a master's degree in leadership development tend to be working professionals pursuing leadership or management positions in business, military, government, or non-profit settings. This could include managers from the social and community service, human resource, or executive sectors. Exact career prospects will vary greatly based on the applicant's industry.
For instance, according to the U.S. Bureau of Labor Statistics (BLS), from 2010 to 2020, employment is expected to grow by 27% for social and community services managers, 13% for human resource managers, and 5% for general and operations managers. As far as salary, according to the BLS, the median annual wage was $57,950 for social and community service managers, $99,180 for human resource managers, and $94,400 for general and operations managers. Job prospects will also depend on the student's experience, educational background, location, and the state of the economy.
Other Online Business Programs