Best Online Master's Degrees in:

Leadership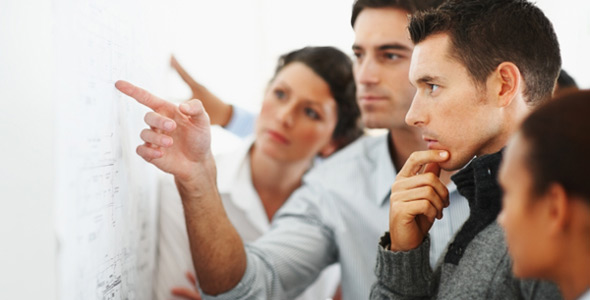 Editor's Picks: Online Schools for Leadership
Value
The best online master's degree in leadership for value is Northeastern University, which offers an online Master of Science in Leadership, through its School of Professional Studies. NU ranked among PayScale.com's top ROI Rankings, with an annual return on investment (ROI) of 6.5% and an annual ROI of 7.8% for students receiving financial aid. Northeastern was also ranked No. 62 among USNews.com's list of top national universities.
Flexibility
The award for flexibility goes to Walden University, which offers an online Master of Science in Leadership. Students on CollegeProwler.com gave Walden a near-perfect score for academic flexibility, and, as noted on Walden 's Online Education page, this university's unique online learning model creates greater convenience and flexibility for its students, and also sets Walden apart.
Career Support
At Northeastern University, students pursuing an online degree have a wealth of career services within their grasp. NU's Career Services department promises students that the "experienced and enthusiastic staff is eager to help you get where you want to go," during school and after graduation. Among the many career services offered are assistance with writing resumes and cover letters, job and internship searches, and applying to graduate schools or for fellowships. NU also helps keep students in constant contact with the "Husky CareerLink" database, and via social media outlets. For all this, Northeastern University wins the award for best career support for its online master's degree in leadership.
Financial Support
Walden University wins the award for best financial support for its online master's degree in leadership. OEDB.org ranked Walden No. 26 on its list of best online colleges for financial aid, noting that 84% of students receive some form of financial aid at this university. Walden 's Tuition and Financial Aid section features a variety of options for those looking to finance their education, like federal aid, scholarships, fellowships, veteran benefits, payment plans, and more. This page also features a net price calculator, for easy estimates.
Technology Support
The award for best online master's degree in leadership for technology support goes to Walden University. Walden provides comprehensive technical assistance to online students 24 hours a day, seven days a week, and also offers assistance in locating textbooks, assignments, and other academic materials, as well as support in accessing other Walden student resources. Before beginning course work online, students can also opt for a self-paced online orientation that introduces them to the online learning environment.
Student Engagement
Northeastern University wins the award for best online master's degree in leadership for student engagement. NU's Student Life department offers not only a multitude of student clubs and organizations to engage students in lively social interaction with their peers, but also features innovative cultural centers to bring students together through activities and events. Northeastern also features a unique option for students who are especially dedicated to their education: with "cooperative education" at NU, students alternate semesters of academic study with semesters of full-time employment in positions related to their academic or career interests.
Disability Support
Walden University wins the award for best online master's degree in leadership for disability support. WU's Disability Services department offers many types of assistance, including extra time to complete assignments and tests, course materials available in alternative formats, including enlarged text or with audio-enhanced, text-speaking software, and available specialized equipment like electric scooters and lifts for qualified students.
Library and Research Support
Southern New Hampshire University wins the award for best online master's degree in leadership for library and research support. Through the Shapiro Library page on SNHU.edu, students can search the online library database, find electronic and print journals by title, and browse research guides and academic and alumni archives, just to name a few of the services available. Students agree that this university's library has top resources—on CollegeProwler.com, they gave SNHU a near-perfect score for "best library."
Learning Support
The award for best online master's degree in leadership for learning support goes to Southern New Hampshire University. As outlined in the Learning Center section of SNHU.edu, students are offered many academic resources to supplement their course work. Through the Learning Center, students can access mentoring, remedial assistance, tutor training, and information about SNHU's own Learning Assistance Seminar. Also through the Learning Center, students gain access to the Academic Advising Office, and SNHU's exclusive Peer Advising Leader (PAL) program.
Faculty Credentials
Northeastern University wins the award for best online master's degree in leadership for faculty credentials. As reported on Northeastern.edu, Northeastern recruits leading educators and scholars from across the country, and the university currently employs more than 1,000 faculty. Students on CollegeProwler.com gave NU a high score for "smartest professors" among top national universities.
Faculty Accessibility
Northeastern University wins the award for best online master's degree in leadership for faculty accessibility. U.S. News & World Report notes that this university, already among top national colleges rankings, has a student to faculty ratio of 13 to 1, and that 61.7% of classes at NU contain fewer than 20 students. Students on CollegeProwler.com gave NU high scores for "most caring professors" and "professors most interested in classes."
Alumni Engagement
Michigan State University wins the award for best online master's degree in leadership for alumni engagement. MSU's official Alumni Association features a multitude of resources and benefits for members of this proud alumni organization. Former Spartans can find fellow alumni and see Twitter feeds from around the world. MSU also features an especially unique opportunity, exclusively for alumni — the Alumni Lifelong Education Evening College, which offers more than 200 noncredit personal enrichment courses for adults.
Prior Learning Options
Colorado State University wins the award for best online master's degree in law enforcement for prior learning options. On the Transfer Admissions page, students can find everything they need to know about online applications, how to apply, admissions requirements, and deadlines and notifications. Students can also find military and veteran options, information on obtaining a second bachelor's or postgraduate degree, instructions for how to check application status, and downloadable admissions forms.
New Online Student Orientation
Colorado State University wins the award for best online master's degree in law enforcement for its new online student orientation resources. On the Student Services page of CSUGlobal.edu, students can learn basic skills they'll need in the virtual learning environment, and even take part in a video demo and tutorial, to familiarize themselves with the online format. Also, before beginning their course work, students can explore the virtual library, 24/7 tutoring services, and technical support center.
Explore a Master's Degree in Leadership
A master's degree in leadership is designed to provide working professionals with the skills needed to provide strong corporate direction and development in their organization. Degree programs typically focus on imparting today's emerging leadership theories, practices, skills, and tools so that business leaders can drive organizational innovation, encourage creativity, and inspire positive change in complex corporate environments. Students develop skills in promoting company-wide engagement through collaboration, maintaining cooperation from multiple parties, and developing talent, all while maintaining strong business ethics and social responsibility. Graduates should be able to apply skills gained in an online master's degree in leadership in an entrepreneurial, management, human resources, information and technology, or project management career.
Before pursuing a master's degree in leadership, prospective students must have first completed a bachelor's degree in a related subject. While many individuals enter a master's program with some sort of business degree, students from almost all bachelor's degree backgrounds can pursue the program. The degree is also a popular choice for individuals possessing a bachelor's degree in human resources. In most cases, an online master's degree in leadership can be completed in two to three years. Factors that can impact the duration of the program include the specific school and program, and the amount of courses an individual can handle at a given time. Students pursuing the degree through a part-time program, or those pursuing the degree while working full-time may take additional time to complete the program.
Class Curriculum
Master's-level leadership programs typically have students begin the program with a series of foundational courses. Once students move on to more advanced course material, they can expect a number of leadership courses focusing on areas like employee development, organizational systems, leading in global and multinational settings, communication and new media, and leadership in family business and entrepreneurship. Some common core-level courses you may encounter are:
Organizational Leadership. An entry-level core class, this course helps students draw on material from various social science disciplines. The integrated course focuses on research and models of leadership relevant to defining and achieving collective goals in a variety of organizational settings.
Organizational Ethics. This course is an inquiry into philosophic foundations of interpersonal relationships and their values in organizational ethics. Students also analyze the impact of the implementation of ethical standards and how they relate to the responsibilities of people in an organization toward society and individuals.
Negotiation and Dispute Resolution. Students learn the theory, structure, and practice of collaborative negotiations, and how to apply effective dispute resolution skills to resolve conflicts. Application within the class is left generic so that it is appropriate for all professions.
Course work for individuals pursuing an online master's degree in leadership will be heavily dependent on reading and writing. In most cases, students use regular readings, case studies, group discussions, and group activities to practice and develop successful methods for applying leadership concepts in the workplace. This work should help students feel comfortable communicating an idea or concept to large groups, and help students develop negotiation and conflict management skills. Most programs will require the completion of a final capstone project that involves examining particular case studies and communicating, either through a presentation or written document, an original leadership initiative that can be applied in a work setting. Lastly, almost all leadership programs will require students to complete an internship in a supervised work setting.
Building a Career
Graduates possessing an online master's degree in leadership can pursue an almost limitless number of employment opportunities. Among the more common career options for graduates are executive positions within a business or organization. Another popular career choice is in administrative service management. Top executive positions not only include chief executive officers (CEO), but also include chief financial officers (CFO), chief information officers (CIO), chief operating officers (COO), and chief sustainability officers (CSO), who support the CEO, while also overseeing their specific departments. These executives typically establish and carry out departmental or organizational goals, policies, and procedures, direct and oversee an organization's financial and budgetary activities, manage activities relating to products and services, negotiate and approve contracts, appoint department heads, and analyze financial statements and performance reports.
The responsibilities of an executive often depend on the size of the organization. While an executive in a small organization might be responsible for purchasing, hiring, training, quality control, and day-to-day supervisory roles, top executives in large organizations typically focus more on formulating policies and strategic planning. General and operations managers oversee day-to-day operations. Top executives work in almost every industry, ranging from one-person businesses to firms with thousands of employees. Many work out of large offices with numerous support staff in the same office. These types of jobs can be extremely stressful, and executives are under intense pressure to succeed. Executive positions may also require extensive travel, exceptional time management skills, and the ability to lead meetings and conferences.
According to the U.S. Bureau of Labor Statistics, the median annual income for CEOs was $165,080. The lowest 10% of CEOs earned less than $75,160. Income for lower-level general and operations managers was $94,400, with the lowest 10% earning less than $47,280. This illustrates that pay is heavily dependent on the size of the company, and amount of experience an individual brings to the job. Things like the strength of the economy, and overall success of a business can greatly affect earning potential as well. The BLS also reported that job growth is expected to be slower than average for all occupations, increasing by just 5% through 2020.
Other Online Business Programs